By Mike Maddaloni on Monday, April 26, 2010 at 04:00 AM with
2 comments
Trends research, innovation, and activation firm PSFK has just released their 2010 Good Brands Report. This is a study on 10 top global brands, their reason for inclusion and opinion on each from a panel of experts.
The Good Brands for 2010 are: Google, Apple, Jamie Oliver, MIT, Ace Hotel, IKEA, Nike, Twitter, Foursquare and Nintendo.
The opinions on each brand come from members of the Purple List, of which I, Mike Maddaloni, am a member. The Purple List is described as "a network of experts for hire. The list is comprised of designers, journalists, marketers, and entrepreneurs." My quote for Google on page 5 of the report is as follows.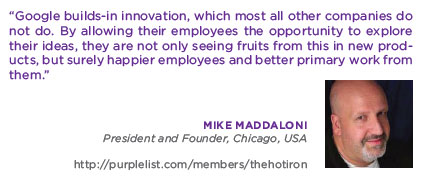 It Reads, "Google builds-in innovation, which most all other companies do not do. By allowing their employees the opportunity to explore their ideas, they are not only seeing fruits from this in new products, but surely happier employees and better primary work from them."
You can get a copy of the 2010 Good Brands report here, or read the SlideShare report embedded below.
I appreciate the opportunity once again to be part of such a high-profile report, as I was quoted last year on Virgin.

Did you enjoy reading this? You are welcome to subscribe to The Hot Iron by RSS feed or by email.
Announcements
•
Business
•
Technology
•
Strategize
• (2)
Comments
•
Permalink

Page 1 of 1 pages