By Mike Maddaloni on Wednesday, April 28, 2010 at 04:00 AM with
1 comments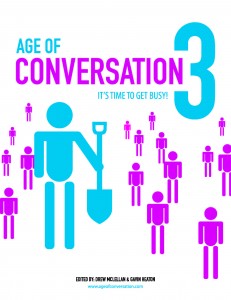 Imagine a book comprising a few different themes and written by almost 200 writers. Can you? Either way I am proud to say I, Mike Maddaloni, am one of those writers in the book The Age of Conversation 3, coming soon to a bookstore near you.
As you cam tell by the title, this is the third book of its kind in this series. Gavin Heaton and Drew McLellan are the curators and editors of this project. It is a truly international project, with authors from around the globe and Gavin in Australia and Drew in the US.
The central theme of AOC3 is 'It's Time to Get Busy!' and the book is divided into 10 sections: At the coalface, Conversational branding, Influence, Getting to work, Corporate conversations, Measurement, In the boardroom, Pitching social media, Innovation and execution, Identities, friends and trusted strangers. My piece will be in the 'Getting to work' section.
The Age of Conversation 3 will be released soon - look for another post here on The Hot Iron. All profits from the sale of the book are donated to the Make-A-Wish Foundation. Special thanks to Gav and Drew for letting me be a part of AOC3 and for all of their hard work to make it a reality!

Did you enjoy reading this? You are welcome to subscribe to The Hot Iron by RSS feed or by email.
Announcements
•
Thrive
• (1)
Comments
•
Permalink

Page 1 of 1 pages