By Mike Maddaloni on Wednesday, September 02, 2009 at 04:00 AM with
0 comments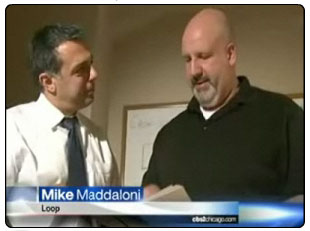 As much as a mobile phone is a high tech device, it doesn't necessarily mean everybody who uses one is also high tech. In most cases, that is not the case. When I heard T-Mobile, who is my mobile provider, is going to start charging for paper copies of bills to be sent, I was honestly surprised. I heard about it in a tweet from CBS2 Chicago, and responded with my stance.
Shortly after I was asked if I would like to be interviewed about the story, to which your humble and definitely not camera-shy writer quickly obliged. The accompanying photo is a screen shot from the interview today on CBS2 with reporter Vince Gerasole, and by clicking on the picture or this link to the CBS2 Web site you can watch the story.
Maybe I am hyper sensitive to such issues in my capacity as a Web architect and developer, but the ultimate goal of any use of retail technology is to help those using it. As much as online billing is alive and flourishing, not to mention my use and support of it, I also understand that we are "not there yet" as a society when it comes to being completely paperless. Some people prefer a paper bill, especially for those who are not online continuously as others are. T-Mobile is charging $1.50 for a non-detailed bill (not listing all calls) and $3.50 for a bill listing them all. I can see if they wanted to impose a charge on a detailed bill, as they tend to run long (in the news story, the bill I printed was 18 pages), but charging even for a basic bill makes no sense to me.
Rather that starting with the charge, T-Mobile should incentivize people by offering them a credit, say US$5, to go paperless. That may cover most people. For those remaining, this should have already been worked into your pricing structure to send bills in some form. Rather than sending bulky envelopes with all kinds of inserts, perhaps send the statement in a self-sealing sheet, similar to how some checks are sent? There are other options – explore them!
I must admit I am a very satisfied T-Mobile customer, and I have stated that before here on The Hot Iron. However, one issue I do have is with billing. Where I get my bill online, I never get an email or even SMS alert that my bill is available. I have to rely on my credit card statement to see a new bill has been cut. Also, the T-Mobile site offers an HTML version of the bill and not a PDF version, so someone would need the software to make PDFs in order to save it digitally. Most other vendors send email alerts and offer PDFs.
I'm interested in how this issue plays out, and if other providers capitalize on it, or if all others start charging for bills. In any case, we all need to be aware about what is showing up on our bills. For this issue, I thank CBS2 Chicago for letting me know about it.

Did you enjoy reading this? You are welcome to subscribe to The Hot Iron by RSS feed or by email.
Business
•
Mobile Technology
• (0)
Comments
•
Permalink

Page 1 of 1 pages