By Mike Maddaloni on Tuesday, September 28, 2010 at 04:00 AM with
0 comments
In the September/October 2010 edition of NFIB MyBusiness magazine there is an article called "Click Here for Profits" which is geared towards new, moderate and experienced Web site owners. The magazine is published by the National Federation of Independent Business and is geared towards its members, all business owners. In the section titled "Getting Online for the Moderately Experienced" by Christina Galoozis, I was proud to have been able to contribute to this part of the overall article. You can read the article here at the NFIB Web site.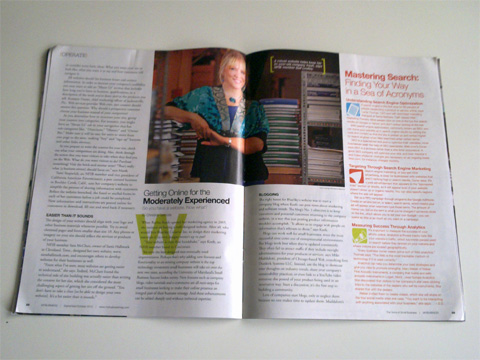 In the article, I shared several points, including offering a variety of content in your company's blog, planning and writing a blog consistently, and on local search. I had a great conversation with Christina who asked me very insightful questions, and related my thoughts very well in the article.
Thanks to Christina for the opportunity to be in this article, and if you are visiting The Hot Iron as a result of the article, welcome! I also welcome your thoughts and opinions on the article here in the comments to this blog post.

Did you enjoy reading this? You are welcome to subscribe to The Hot Iron by RSS feed or by email.
Announcements
•
Business
•
Strategize
•
Web Design
•
Web Development
• (0)
Comments
•
Permalink

Page 1 of 1 pages