By Mike Maddaloni on Thursday, December 25, 2008 at 11:33 AM with
4 comments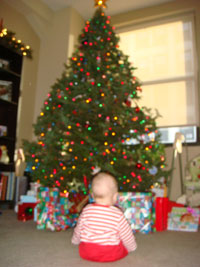 Just taking a few moments out of our family gathering to wish everybody out there reading this a very Merry Christmas! For myself and my lovely wife, it is very special as it is our baby's first Christmas, as can be seen in the accompanying photo of little Margo looking in amazement at the tree and presents.
I am grateful for the things I have. We always want more or want certain scenarios to be different, and those take work. I just don't want to be forgetful of what I have as I quest for what I don't have yet.
Now back to my outhouse wall calendar and big box of Almond Joys I got from Santa.

Did you enjoy reading this? You are welcome to subscribe to The Hot Iron by RSS feed or by email.
Diversions
• (4)
Comments
•
Permalink

Page 1 of 1 pages