By Mike Maddaloni on Monday, December 16, 2013 at 09:56 PM with
5 comments
For as many great major and incremental changes LinkedIn has made the business social networking service, they have eliminated a few services which I found resource rich and grew dependent on. One was LinkedIn Answers, a robust business question and answer section of the service which was shut down and disappeared earlier this year. Add to the list the RSS feed of network updates, which a few days ago I was informed it is going away as of the end of this week on December 19.
The following is an image of the email message I received from LinkedIn.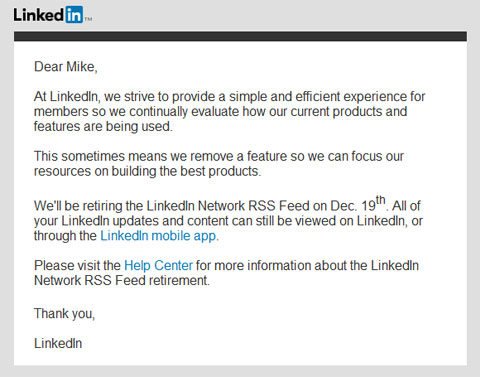 The following is the text of the email message I received from LinkedIn.
Dear Mike,

At LinkedIn, we strive to provide a simple and efficient experience for members so we continually evaluate how our current products and features are being used.

This sometimes means we remove a feature so we can focus our resources on building the best products.

We'll be retiring the LinkedIn Network RSS Feed on Dec. 19th. All of your LinkedIn updates and content can still be viewed on LinkedIn, or through the LinkedIn mobile app.

Please visit the Help Center for more information about the LinkedIn Network RSS Feed retirement.

Thank you,
LinkedIn
For some time now I have been subscribed to the RSS feed of my network updates. If you use LinkedIn, this is the information on its home page, which shows updates to your connection's profiles as well as articles they have shared, groups they have joined, if they have a new connection, etc. This would allow me to see each and every update in my growing network, which was valuable to see where people were moving and information they were sharing. It was also much easier to read, as I could scan the headlines of these changes and posts, and click on anything I wanted more information on.
In other words, the network RSS feed was simple and efficient. But wait, isn't that the same reason why LinkedIn gave for killing it?
If you couldn't guess I love RSS!
It goes without saying that I love RSS as it is the primary way I keep informed. RSS is not just for blogs, as I get it for news, weather, sports, events, and networking information. Of course the networking information will decrease as a result of LinkedIn eliminating the network RSS feed.
Using my RSS reader of choice, Fever, I am able to aggregate all of the above information and then some. In the case of LinkedIn, I feel because of the RSS feed I am visiting their site more often, and in the process viewing the banner ads they are selling, not to mention good old-fashioned networking. Did I mention I am viewing the banner ads more often as a result of RSS?
Business decisions for business networking
My guess is I am one of a small minority of people who actually subscribe to the RSS feed, and as a result they are simply turning off the functionality. LinkedIn promoted the RSS feed, complete with the orange RSS icon, at the top of the network updates list. I can't remember the last time I have seen this. As I have seen little uproar from others about the cancelling of this service, maybe that minority is, as I'd say in Boston, wicked small?
In addition, by controlling the display of network updates, they have the ability to offer more information and services, such as sponsored updates. I have noticed these on the site but not in my RSS feed. Of course to add these to the feed would cost money and resources, and from their message, this is something the new-publicly traded business does not want to do.
RSS is still not dead, #VIVARSS
In the end, after the dust settles from the nuclear winters, it will be just the cockroaches and RSS. Why? Well, as for RSS, it is open and distributed, does not rely on a continuous network connection to work, and is very simple to read and process. After Google killed its Reader RSS aggregator, many wondered if RSS was dead technology. Where it may not be the shiny new object on the Internet that it was, it is a core service that can easily be adopted and utilized, and that in itself makes it valuable.
Did the LinkedIn Network RSS feed shutdown impact you? Did you even know it existed? Share your thoughts in the comments of this post.
---
This is from The Hot Iron, a journal on business and technology by Mike Maddaloni.
---
Did you enjoy this? Subscribe to The Hot Iron by RSS/XML feed or Read by Email.
---
Build
•
Business
•
Technology
•
Web Development
• (5)
Comments
•
Permalink

Page 1 of 1 pages