By Mike Maddaloni on Wednesday, December 26, 2007 at 11:27 AM with
1 comments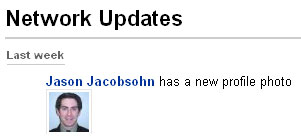 At one point last week as I was scrambling to put together the list of recipients for Dunkirk Systems' holiday cards, I needed to go to LinkedIn to look up a couple of contacts. When I arrived at the social networking site I saw a familiar face, a wizard image LinkedIn puts up when it takes the service down for maintenance. When I went back after the maintenance window, I was pleasantly surprised to see more familiar faces.
If you have a LinkedIn account and you visit the home page, you can see updates to people in your network. As I have previously stated, this is a highly valuable feature of LinkedIn as you can find out changes for contacts, including if they have a new job. Now these changes include if a person has added a photo to their profile. The accompanying image is a partial screen grab from my own LinkedIn home page, showing networking guru Jason Jacobsohn recently added a photo to his profile.
This is a good step forward for LinkedIn, and as competition heats up from other social networking sites like Facebook, I am eager to see what other changes they will make.
Business
•
Technology
• (1)
Comments
•
Permalink

Page 1 of 1 pages