By Mike Maddaloni on Tuesday, February 17, 2009 at 07:22 AM with
1 comments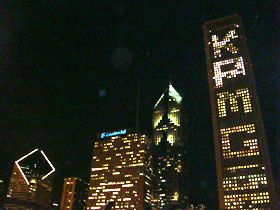 Yesterday it was announced that accounting giant KPMG LLP is moving their Chicago offices to the Aon Center, the 3rd tallest building in the Windy City. In honor of that, the name of the firm was displayed on the south-facing side of the tower using window shades.
As I am a former firm employee, my wife currently works there, and we have many friends who work there in the US and internationally, I went out last night and took a few pictures, as seen in the accompanying photo, and as well made the following video – view it on YouTube if you do not see it below.
As much as people are more and more working virtually, we still have the need to get together and collaborate. Of course the firm itself will need space for storage and record keeping, but the need for people to be able to meet face-to-face is still important today and tomorrow, and I am sure at least through the end of their lease.

Did you enjoy reading this? You are welcome to subscribe to The Hot Iron by RSS feed or by email.
Business
• (1)
Comments
•
Permalink

Page 1 of 1 pages