By Mike Maddaloni on Wednesday, March 02, 2011 at 07:27 AM with
6 comments
A visit to the cereal aisle of a US supermarket is always an overwhelming experience, as with each visit it appears that there's even more choices to make. In this crowded field of breakfast foods, you need to stand out somehow, and why not with a QR code?
A new variety of cereal, Crunchy Nut from Kellogg's, featured a QR code on the back of its cereal box as shown below: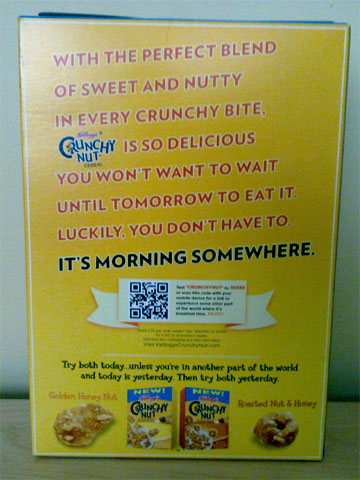 Note there was not a QR code on the front of the box, and I discovered this when I went to buy the cereal. The detail of the QR code is shown below: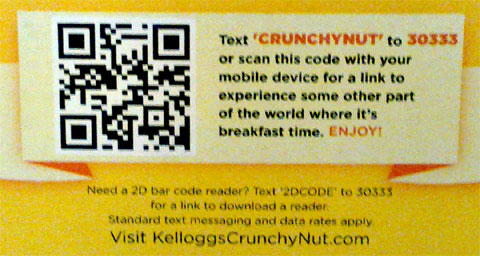 Upon scanning the code, you are taken to a mobile Web optimized site where it shows a video reinforcing its marketing message about eating the cereal day or night because "it's morning somewhere." I have visited the site a few times and I observed different videos.
This a good example of a presentation of a QR code as well as what it links to. In a prominent location, the message offers both the option to send an SMS message or to scan the code, and below it tells the cereal eater how they can get a reader app, and if they do so, they may be charged for it. In this case, Kellogg's chose to call it a 2D bar code, and my guess all of this text was vetted by their legal department and thus it is called as such, as technically QR code is a trademarked name, but offered as an open standard.
Only if the cereal lived up to the quality of the QR code presentation – it was a little bland for my taste, and not that crunchy either, but I digress. The QR code won me over in this case.

Did you enjoy reading this? You are welcome to subscribe to The Hot Iron by RSS feed or by email.
Build
•
Technology
•
Mobile Technology
•
QR Codes
•
QR Codes In Action
• (6)
Comments
•
Permalink

Page 1 of 1 pages