By Mike Maddaloni on Tuesday, September 18, 2007 at 01:00 AM with
0 comments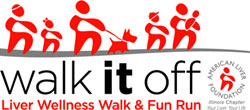 Since 2001 my family, friends and I have participated in walks in Boston and Chicago to support the American Liver Foundation (ALF). This is a result of my channeling my emotions and energies after the loss of my Mom that year to Primary Biliary Cirrhosis, or PBC, an auto-immune liver disease that mostly affects women. Through funding research, wellness programs and advocacy, ALF is the leading organization in the US fighting liver disease.
This year my lovely wife and I will not be able to participate in the Liver Wellness Walk & Fun Run in Chicago, but that is not stopping us from participating. Taking a page from what I do on the Internet, we are forming The Virtual "A" Team, and out tag line is "We'll Be There In Spirit!"
Anything you can do to contribute to this cause is greatly appreciated. Please visit our team page to make a contribution by credit card – if you would like to give by check or cash, please contact me directly.
Thank you in advance, and feel free to bookmark or pass along this post!
Announcements
•
Diversions
• (0)
Comments
•
Permalink

Page 1 of 1 pages