By Mike Maddaloni on Sunday, August 31, 2008 at 04:00 AM with
0 comments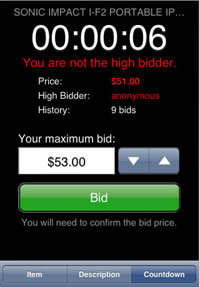 Earlier this year iRibbit won all kinds of eBay developer awards for their extremely user-friendly auction interface for the iPhone. Now there is iRibbit Plus, which is a full-blown iPhone app, which is available for free via the Apple iTunes App Store.
Congratulations goes out to Chuck Hudson of Aduci, who along with his team developed the app. Chuck is a good friend and a great developer. But don't just take my word on it, read the ZDNet review of iRibbit Plus.
The accompanying photo was borrowed from ZDNet, as I don't have an iPhone to get my own screenshot because, well, it is not an unlocked phone.

Did you enjoy reading this? You are welcome to subscribe to The Hot Iron by RSS feed or by email.
Business
•
Technology
• (0)
Comments
•
Permalink

Page 1 of 1 pages