By Mike Maddaloni on Tuesday, November 16, 2010 at 10:29 AM with
0 comments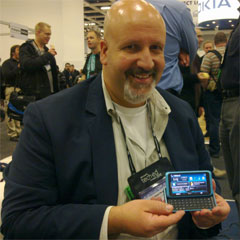 When I was preparing to attend the Microsoft TechEd Europe conference last week, I was hoping I would get my hands on the new, yet-to-be-released Nokia E7 smartphone. As TechEd is a business technology conference, and the E7 is being positioned as a business mobile device, I was pretty confident there would be an E7 or 2 available for me to try.
The good news is there was, however they were the personal devices of the Nokia staff who were there for the show and working at the booth. So where I was able to hold and try an E7, nobody handed me one and told me to walk around the exhibit floor and take it for a test drive. As a result, I had limited access, but enough to collect some initial thoughts and opinions which may be of value for others. I have also listed a number of things I would like to try out once the device is released. Interestingly, it was also the first time I had my hands on a Nokia N8, which came in handy for comparison of the 2 devices.
First, here's my initial thoughts, and not necessarily in a priority order:
Good size – The E7 has a decent-sized screen. When the keyboard is "stored" under the device, it fits well in your hand and is not too bulky. After sliding the keyboard out, it is practical to type and use while holding in my hands as well as placing it on a flat surface. It is also a bit larger than the N8, as you can see from this angled yet side-by-side comparison photo I took.

Solid – A hallmark of Nokias is they are solidly built, and the E7 continues this tradition. When I attempted to slide out the keyboard for the first time, I was cautious as I didn't want to do it with too much force. But once I did it and a few more times, I got the hang of it. The keyboard can take a little pressure on the slide mechanism.
Decent keyboard – The keyboard is more like the N97 than the E75, which is a good thing. There are arrow keys rather than a joystick, which is preferred to me, especially on a touchscreen device. I say the keyboard is good, and to make it great would be to add an additional row of keys so I don't have to press an "alt" key to type numbers. But it does have 4 rows of keys as compared to 3 on the N97.
Memory – The E7 has 16 GB of memory on-board. I asked how much available memory was free on the device when it is shipped, and I was told it was about 14 GB, as there are core files and some audio and images and video shipped on the device. There is no memory card slot, and some have had issue with this. Personally, Micro SD cards are too darn small for my big hands. The E7 has a Micro USB connector, and with an adapter cable you can connect a USB Flash drive. I saw a demo of this – when connected, you can browse the Flash drive just as if was an inserted memory card. You can also run files off the Flash drive, including video and presentations, which to me looked seamless.
Video – I saw 2 examples of this. First was a video file played off a Flash drive, and as I said above it looked fine. I also saw NHL Gamecenter, an app which shows clips of hockey games. I watched this both on the device as well as when it was connected to an HDTV using its HDMI out port. The video quality was very good on the E7 and good on the HDTV, though there was some pixilation. My assumption is this was due to the compression of the video itself as it is probably optimized to deliver over a mobile network. The photo below is of a game clip on an HDTV from the E7.

Camera - The camera on the E7 is 8 megapixels, as compared to a 12 megapixel Carl Zeiss lens on the N8. When I asked about this, I was told part of the decision-making was the price of the device, and part was that in order to have the Zeiss lens on the N8, it extends from the back of the device, which if done on the E7 it would not be able to lay flat on a surface. This makes sense as you won't always be holding it when typing.
So what did I want to do that I did not have the opportunity to? Here's a few things:
Take video and photos and look at them on my PC.
Try reading text outside in sunlight and in a dimly lit room, as well as see how much I can adjust the text size.
View PDF documents.
Write and edit a blog post.
Surfing the Web, including hitting various eCommerce Web sites.
In short, I would want to use it as I do my E72 device on a daily basis.
One last thought – orange would be my color of choice! It's a unique color and the metallic color looks impressive, plus it will match my luggage.
I hope my initial thoughts are of some help. What are your thoughts on what you have seen and heard on the E7 so far?

Did you enjoy reading this? You are welcome to subscribe to The Hot Iron by RSS feed or by email.
Build
•
Technology
•
Mobile Technology
• (0)
Comments
•
Permalink

Page 1 of 1 pages