By Mike Maddaloni on Saturday, November 03, 2007 at 07:28 AM with
2 comments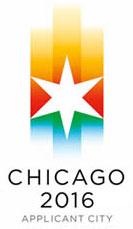 Earlier this year Chicago was all abuzz when the city was designated the US applicant city for the 2016 Summer Olympics. After a head-to-head battle with Los Angeles, the US Olympic committee voted and selected the Windy City to compete against several cities from around the world to host the international event. The final decision by the International Olympic Committee (IOC) will be made in 2009.
A rally was held in Chicago the Monday after the decision was made, and then the buzz seemed to die. Other than a few stories about venue locations and the need for the Chicago bid logo to change (it had a torch in it, which violated Olympic branding rules, and the new logo is shown here), there was no news or events surrounding the bid until the recent international boxing event. But other than a parade through the city, unless you were a boxing fan, you probably weren't involved.
There's about a year and a half between now and when the IOC makes its choice for the host city. I am sure there are many tasks and activities going on in the background that are not public and do not need to be. Posters with the new logo just started appearing on ad space in the downtown Loop area. But the buzz and excitement of getting such an event, even if it is 9 years away, just isn't here.
So how can I help get the Games to Chicago? I have blogged about the Olympics before. I also created my own custom return address labels with the logo on them, though I have no idea if that is in violation of some trademark usage rules. I have this feeling that there's more that the common resident could do, especially with the potential economic impact to the city.
For a city that prides itself on being a center for advertising and marketing, more must be done to engage the people of Chicago in the city's bid to get the 2016 Olympics. Otherwise, when the few messages that hit the public come out, they may not get the reception they require, let alone stir the soul.
Business
• (2)
Comments
•
Permalink

Page 1 of 1 pages