By Mike Maddaloni on Friday, July 05, 2013 at 10:49 AM with
0 comments
To all my fellow Americans and to those who love the United States as much as I do, a happy Independence Day!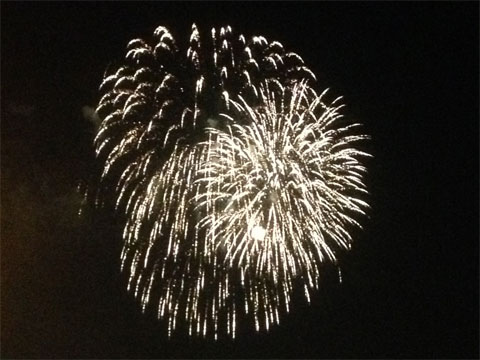 For the second year in a row, my family celebrated the Fourth of July with friends in Indiana, where we experienced what I consider an old-fashioned celebration with fireworks and a kids bicycle parade, where everybody decked out their bikes in red, white and blue. It reminded me a lot of the celebrations I had as a kid, especially the fireworks. In the town I grew up in, we lived next to the high school where they launched the fireworks from every July 3, so whenever I see fireworks, I always think of the Fourth of July.
Now before you make a comment on how I am forgetting the true meaning of this holiday, I am certainly not! As a US history junkie who grew up in Massachusetts, where you can barely spit without hitting a historical marker I know well about the roots of this nation. Growing up a few miles from the first US armory and the site of the first revolt against the newly-formed government I know well what effort and sacrifices went into making this country, greatly appreciate them and am taking every opportunity to teach my little ones today. So the meaning for the celebration is not lost in me, but neither is the celebration either.
However you celebrate Independence Day, even if you were working, I hope you had a great day and got to enjoy the symbols and remember the deep meaning behind them.
---
This is from The Hot Iron, a journal on business and technology by Mike Maddaloni.
---
Did you enjoy this? Subscribe to The Hot Iron by RSS/XML feed or Read by Email.
---
Announcements
•
Thrive
• (0)
Comments
•
Permalink

Page 1 of 1 pages