By Mike Maddaloni on Thursday, November 22, 2007 at 04:00 AM with
1 comments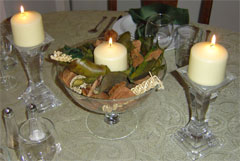 To all my readers and their family and friends, a safe, healthy and Happy Thanksgiving day! If you are traveling, by now – hopefully – you have made it to your destination and are well on your way to spending good times with those around you.
The accompanying picture is of the dining table and centerpiece from last year's Thanksgiving, made by my lovely wife. This year I will try to get a picture of the complete feast to share next year.
Don't eat too much, and a safe return trip!
Announcements
•
Diversions
• (1)
Comments
•
Permalink

Page 1 of 1 pages