By Mike Maddaloni on Saturday, June 14, 2008 at 04:00 AM with
0 comments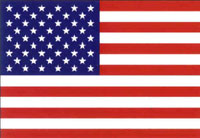 June 14 is Flag Day in the US. It celebrates the adoption of the Stars and Stripes as the flag of the United States on June 14, 1777, and later became a nationally recognized day. More information about the day's history can be found in this Wikipedia article on Flag Day.
Today I will be joining members of the Chicago chapter of the Daughter's of the American Revolution, or DAR, in handing out flags to people along Michigan Avenue. The DAR is a historic organization of women who can trace their ancestry to the Mayflower or the American Revolution. My lovely wife is a member, and thus that makes me a Husband of a Daughter of the American Revolution, or HODAR. With a title like that, how could I not participate?
Happy Flag Day, a day in honor of not only a great national symbol, but also one of the best known brands in the world.
Diversions
• (0)
Comments
•
Permalink

Page 1 of 1 pages