By Mike Maddaloni on Sunday, August 31, 2008 at 10:39 AM with
6 comments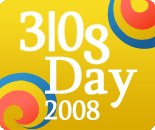 Today is Blog Day. Bloggers like myself around the world will be recommending 5 blogs to their readers. Last year I missed it by a few days, and this year I am glad I got it on time.
Here are 5 blogs I read and of which I invite you to explore. In no particular order:
Chris Brogan – Chris is a social media guru from the Boston area. I feel a lot of what he says is very grounded and practical, only as a fellow New England Yankee would.
User Effect – Peter "Dr. Pete" Meyers is a usability and SEO guru and writes about it in a very grounded and practical way as well. And he is from the Midwest.
Networking Insight – Jason Jacobsohn is a networking guru and a valued member of the entrepreneurial community in Chicago. He writes about networking and business in a grounded and practical way. I am seeing a pattern here!
Elliot's Blog – Elliot Silver is a domain name guru and his blog is a tremendous resource on the domaining industry, especially around developing domain names to Web sites. This native New Englander also writes in a very grounded and practical manner.
The Terrier Hockey Fan Blog – I am a college hockey fan, and my team is the Boston University Terriers. My best source for team information is this blog, and it's written in a manner… well, you get the picture!

Did you enjoy reading this? You are welcome to subscribe to The Hot Iron by RSS feed or by email.
Technology
•
Diversions
• (6)
Comments
•
Permalink

Page 1 of 1 pages