By Mike Maddaloni on Friday, September 07, 2007 at 07:00 AM with
4 comments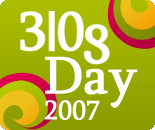 Once again, I miss another date to send something, but in this case it's not for a relative's birthday. BlogDay was last Friday, August 31, and you can read about BlogDay here.
As I missed contacting 5 people – and nobody contacted me – here's some link love for 5 blogs I enjoy reading on a regular basis.
The Lobby – Yes, this is a corporate blog operated by Starwood Hotels, but it gives great tips on vacation destinations and things to do in those areas. They have a team of great writers that give good, light-hearted information on different spots around the globe.
PSFK Trend – They cover international products, services, events and trends from a marketing perspective. This is another blog that has helped expand my mind about what is out there.
The Patriot Act – Surprisingly, it's hard to get deep insight into what the New England Patriots are doing in the Chicago market. As I am not going to subject myself to the blowhard writers for the Boston newspapers, this blog helps fill the gap.
Spoofee – This is more of a feed from their forums, but as I have gotten some great deals on purchases they have mentioned, they get a mention here.
The Jeff Pulver Blog – The guru on voice over IP writes much on entrepreneurship and I always find it insightful and very relevant. Plus he throws great parties!
Technology
• (4)
Comments
•
Permalink

Page 1 of 1 pages