By Mike Maddaloni on Wednesday, July 25, 2007 at 06:05 AM with
1 comments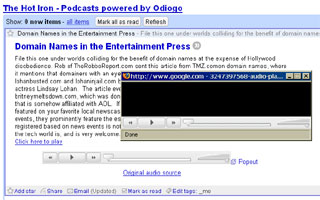 One feature I like about Google Reader is the ability to subscribe to podcasts and play them on the Web page. However when performing my daily routine of reading feeds and listening to podcasts as I have my first of many cups of coffee, if I click on a new entry while listening to a podcast, the podcast stops and goes away – I have to go in and change the view to read all, and then restart the podcast.
Last week I noticed a "popout" link next to the audio player. By clicking on it, a small pop-up window with just the audio player appears, and I can play the podcast and continue reading other feeds with no problem. The screenshot in this post shows the feed for The Hot Iron audio version from Odiogo with the popout window on top of some of the text – click on the screen to see a larger version.
This is a great new feature and adds more fuel to the debate over what is the best feed reader. Though Google Reader could improve its batching and sorting capabilities, allowing me to listen to The M Show while I read my other feeds is an advantage over the others.
Technology
• (1)
Comments
•
Permalink

Page 1 of 1 pages