By Mike Maddaloni on Sunday, February 07, 2016 at 11:46 PM with
2 comments
Would you pay money to read The Hot Iron? And what if by paying you saw less ads on the site?
I know I have asked this question before when I added CentUp to this very blog. Another new revenue model for writers has come about from Google called Contributor. As I have no illusions (delusions?) of grandeur in earning a living from this very site alone in itself, I was more intrigued to try it to how it really works.
How It Works
Google Contributor allows a Web user to contribute money monthly for ads to not be shown on Web sites it visits. The ads specifically are ones from Google's own ad services, AdSense and DoubleClick. So if a banner ad comes from another source other than Google (and there are many) that ad will still appear. In the place of the ad it may be blank or a thank you message for supporting the particular Web site.
From the Web site owner's perspective, if they are displaying on their site through Google, rather than getting the money for someone seeing and clicking on an ad, they are getting money from the user's Contributor account, in a sense offsetting the cost of the ad usually paid by the advertiser.
A few items of note on Contributor. Currently it only works in the US. By someone contributing money, either US$2, US$5 or US$10 a month, they are still going to see ads. As shown in the chart below, by contributing those 3 previously mentioned dollar figures, they will see respectively 5-15%, 15-25% or 25-50% fewer ads. These fewer ads are across all Web sites with Google ads not just one in particular. So if you contribute $10 a month, thinking it will all go to me for reading The Hot Iron, it will not.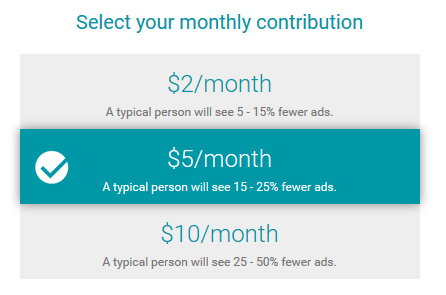 Is It Worth It?
That's a great question – is it worth it? I honestly don't know, as I have just set it up on the blog, and I have also signed up as a Contributor at the whopping US$2 a month level.
Here is a screenshot of this blog with an ad appearing at the top: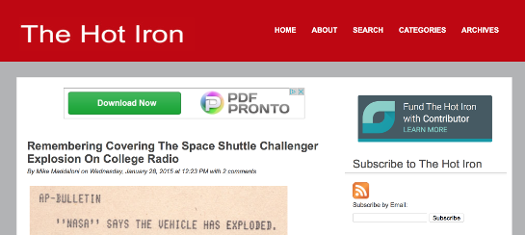 Here is a screenshot of this blog without an ad appearing at the top: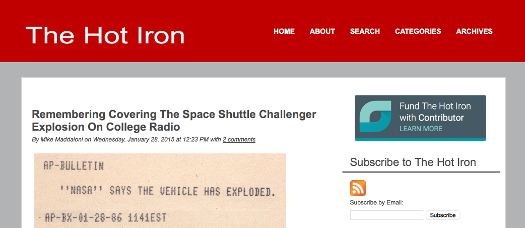 I know – the difference is amazing!
It will be interesting to see how often I notice the ads not there. Last year was the 20th anniversary of the Web banner ad. As I heard somewhere – and I forgot the source – it was marking 20 years of people ignoring banner ads! So even if it technically works, it will be interesting to see if anyone notices.
Are you a Google Contributor? Did I convince you to join, or not join? I welcome your thoughts in the comments of this post.
---
This is from The Hot Iron, a journal on business and technology by Mike Maddaloni.
---
Did you enjoy this? Subscribe to The Hot Iron by RSS/XML feed or Read by Email.
---
Blogging
•
Business
•
Technology
•
Web Design
•
Web Development
• (2)
Comments
•
Permalink

Page 1 of 1 pages