By Mike Maddaloni on Thursday, May 22, 2014 at 08:33 PM with
1 comments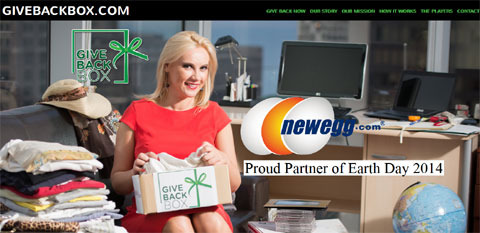 We are a society of stuff. We get new stuff and get rid of the old stuff. With home delivery, overnight shipping, Amazon Prime and other ways getting stuff is very easy. Getting rid of stuff is a different story, for either we put it out on the street, throw it away or put it in a bag and lug it to Goodwill or Salvation Army. With all these ways methods it takes a level of effort to do so, and isn't always convenient. With GiveBackBox now there is a way of getting rid of things that is just as easy as getting them.
GiveBackBox, which launched last year, is a service where you can create a UPS shipping label to put on any box of things you want to get rid of. You simply go to their Web site at givebackbox.com, enter your email address and the UPS shipping label is presented to you as an image which you can print out and put onto a box. The label itself is a return shipment label so you don't have to weigh the box or enter its dimensions. Just fill a box, put the label on it and drop it off at UPS Store, Staples or give to any UPS driver. The label has the address of Goodwill in Indiana. There is no cost to generate a label for anyone.
I first heard about GiveBackBox on Twitter late last year. I thought the idea was brilliant and I had to try it out for myself. Originally you had to register and create an account to use this site but now they removed that and you can just enter your email address to get a label.
The service was started by Monica Weila who runs Style Up Girl, an eCommerce site that sells women's shoes. On the GiveBackBox Web site it tells a story about how she saw a man on Michigan Avenue in Chicago who wanted a pair of shoes. As she didn't have mens shoes, she got some and went back, but he was gone. This was the catalyst for what has become this service.
I have been using GiftBackBox for several months now and have sent over 10 boxes of stuff. Some boxes were bigger or smaller than others, but every time I was reusing a box that came from something I ordered online. Living in the city, I end up storing a bunch of stuff to give away and I really don't have the space to do so. With GiveBackBox you can just send the things as you go. Granted larger items like baby gates and desks are nothing that you are going to box up, and those are things that I actually will bring to Goodwill or Salvation Army. But for the most part clothes or small items are perfect for the service. You can also get a receipt for your donation by going to the Goodwill Web site and filling out a donation form you can print it or save it as a PDF for your taxes.
I like a lot of things about GiveBackBox and I have recommended it to many people and I suggest you give it a try at givebackbox.com. Let me know what you think of the service and feel free to share your thoughts and experiences in the comments to this post.
---
This is from The Hot Iron, a journal on business and technology by Mike Maddaloni.
---
Did you enjoy this? Subscribe to The Hot Iron by RSS/XML feed or Read by Email.
---
Announcements
•
Business
•
Thrive
• (1)
Comments
•
Permalink

Page 1 of 1 pages