By Mike Maddaloni on Saturday, December 22, 2007 at 12:24 PM with
0 comments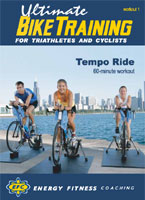 With the cold winter months upon us in the northern hemisphere, longing for getting out and exercising outside will be in our thoughts until the spring. In the meantime, stationary bikes and treadmills will have to do.
To help you through this time, get DVDs from the Ultimate Bike Training series from Energy Fitness Coaching, one of my clients. In these programs, Coach Kelly takes you through an intense workout focused on your tempo or time trial ride. Filmed along Lake Michigan in Chicago on a nice sunny day… that in itself will motivate you even more!
This is a great gift for the triathlete on your list or for yourself if you need extra motivation any time of the year. Read more about and order the DVDs on her Web site and view a preview of the DVDs as well.
Business
•
Diversions
• (0)
Comments
•
Permalink

Page 1 of 1 pages