By Mike Maddaloni on Sunday, November 25, 2007 at 04:00 AM with
0 comments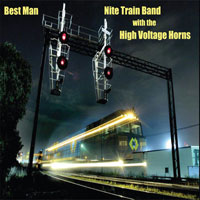 Many of you are either giving or receiving digital music players of various brands for the holidays. But you need music to put on them, and this is where today's gift idea comes into play.
Nite Train Band With The High Voltage Horns is an awesome blues band based in the Albany, NY area. My good friends Ken and Marla Briggs are members of band and their latest album is titled Best Man. It is 10 rocking blues songs and a must-have for all blues and general music fans.
Listen and see for yourself on their MySpace pages and their Web site. If you like it, you can buy it from CD Baby, DigStation and iTunes. And if you're in the Albany area, check them out and tell Briggsy that Mikey in Chicago sent you!
Business
•
Diversions
• (0)
Comments
•
Permalink

Page 1 of 1 pages