By Mike Maddaloni on Saturday, January 05, 2008 at 04:00 AM with
0 comments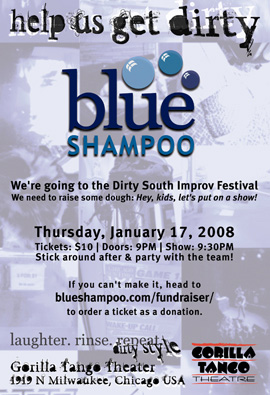 Join Blue Shampoo, the only improv troupe in Chicago to feature me as a member, in a fundraiser improv show on Thursday, January 17. Doors open at the Gorilla Tango Theatre at the corner of Milwaukee and Western in Chicago (just off the Western Blue Line stop) at 9 pm and the show starts at 9:30 pm. See Blue Shampoo perform and possibly some special guests. Tickets are only $10 and can be purchased online.
This show is a fundraiser as Blue Shampoo has been selected to perform at the Dirty South Improv Festival in North Carolina in February. Of course it costs money to get there, and funds raised will to go towards the costs of traveling south and spending a week outside of Raleigh.
So here's your chance to see some amazing talent on the small stage, and me too! I will be at the fundraiser but won't be going to the festival, but I wish I was. If you cannot attend but would still like to support our fundraising, consider buying a ticket or two online?
Hope to see you there!
Diversions
• (0)
Comments
•
Permalink

Page 1 of 1 pages