By Mike Maddaloni on Monday, October 12, 2009 at 04:00 AM with
0 comments
Today, October 12, is Columbus Day. Where it commemorates Christopher Columbus' discovery of the New World, it is also a day to celebrate Italian heritage. As a 100% Italian American, it is a time to think back reflect on my heritage and what it means to me, and now to share it with my daughter. It is a holiday in the US, but not everything is closed – even my firm Dunkirk Systems, LLC is still open for business today.
In my effort to keep it light today, I am sharing a picture of a sign I took this summer when on a getaway to La Porte, Indiana. We stayed at this Holiday Inn Express and seeing this sign with its message, "Service is no Big Thing, It's a lot of Little Things," obviously caught my attention.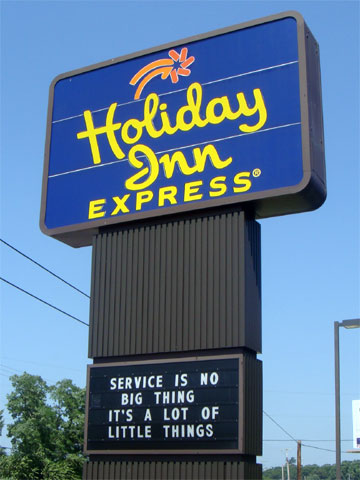 Just a little food for thought today. Other food to have today includes my favorite pasta, gnocchi! To my follow Italian Americans, salute!

Did you enjoy reading this? You are welcome to subscribe to The Hot Iron by RSS feed or by email.
Business
•
Diversions
• (0)
Comments
•
Permalink

Page 1 of 1 pages