By Mike Maddaloni on Saturday, January 31, 2009 at 04:00 AM with
5 comments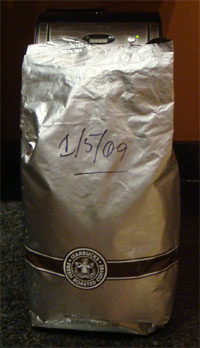 Following up on my list of things I feel Starbucks should sell, I would like to address something they do sell, I actually buy, but it appears many others may not – a 5 lb. bag of Starbucks Pike Place roast coffee beans.
Last year Starbucks announced it would be brewing a new coffee called Pike Place roast. Named after the location of their first store, it was touted as a more mellow roast and it would be served all day, becoming its new house roast. Its announcement was part of a string of things that came from the Seattle coffee giant, including mixed sales results and that it would close all of its stores one afternoon to retool and retrain. As well, it was announced Pike Place roast would be offered in 5 lb. bags. Typically Starbucks offered its coffees in 1 lb. or smaller bags.
When I heard this, I had to try it for myself, as I like to buy coffee in larger quantities because I drink a lot of it. I had tried Pike Place roast by the cup and I thought it was good, but not great. I figured it would be worth a try to brew it myself, a little stronger as I tend to usually do with any coffee. And I liked it! For me, the combination of a large bag and the ability to brew it to my liking, this offering from the coffee giant worked for me.
And maybe just me. I have gone into several different Starbucks stores in the Chicagoland area, and when I purchase the bag, I usually get the same reaction from the people who work there – surprise. Apparently, I am one of the few, if any, customers who buy the 5 lb. bag from stores. The baristas have told me they infrequently or have never sold one, and customers who are in line with me or nearby the counter are surprised to see me walking away with a huge bag of coffee. Whenever I see the looks of awe in faces, I ask people if they are aware of this offering, and most people say no.
One question I am asked is how long a bag of coffee lasts. As you can see by the accompanying photo, I opened it a few weeks back and so far it has lasted 4 weeks. You will also notice the bag itself is almost as big as my coffeemaker!
Thinking about this more, it caused me to wonder if there is anything I am offering in my business Dunkirk Systems, LLC that I am not actively marketing. So I have to ask – are you offering anything in your business your customers may not be aware of?

Did you enjoy reading this? You are welcome to subscribe to The Hot Iron by RSS feed or by email.
Business
• (5)
Comments
•
Permalink

Page 1 of 1 pages