By Mike Maddaloni on Saturday, March 05, 2011 at 04:00 AM with
1 comments
Last month there was joy in downtown Chicago as Target finally announced it would open a small-format store in the Sullivan Center, the former location of Carson Pirie Scott, called CityTarget. I say finally as the rumors of this move by the Minneapolis-based discount retailer have been around for over a year. As someone who both lives and works in the Loop, this is very welcome news.
Yet over 2 weeks after the announcement, there is no outward sign the store is opening. As you can see in the accompanying photo, there is no sign or bullseye logo at the corner of State and Madison Streets – only an exhibit by the School of the Art Institute is in the window.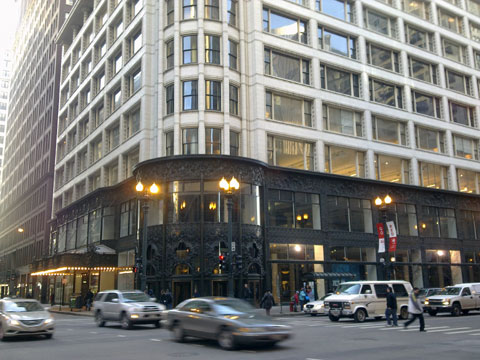 When I heard of the name CityTarget, the first thing that popped into my mind was if Target had the domain name citytarget.com. It does, and wisely registered the name back in 2004. But if you go to www.citytarget.com, there is only a blank Web page. What does the normally boastful retailer have to hide?
Though no official date has been set for CityTarget's opening, I do hope it's soon, and I do hope they make some effort to promote it – the long empty windows of this historic building could use a little color.

Did you enjoy reading this? You are welcome to subscribe to The Hot Iron by RSS feed or by email.
Build
•
Business
•
Domain Names
• (1)
Comments
•
Permalink

Page 1 of 1 pages