By Mike Maddaloni on Tuesday, February 03, 2009 at 08:17 PM with
1 comments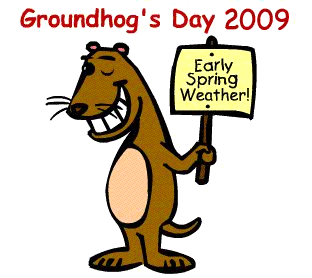 Where all of the attention yesterday was on Punxsutawney Phil and the fact he saw his shadow, I looked a little further north from the Pennsylvania town for my prognostication. On the shore of Lake Erie lies Dunkirk, New York, where a groundhog by the name of Dunkirk Dave resides.
Where Phil saw his shadow, implying a longer winter, Dave did not see his shadow, meaning an early spring. With all of the snow I have faced personally in Chicago as well as what friends, family and clients have endured from the left to right coasts of America, I think we can all go for a little less winter and some warmer, bearable temperatures.
So once again my hat goes off to Dunkirk Dave. Well, for now my hat will stay on and cover my head until it is warm enough to expose my bald pate to the elements. And as you may have guessed, Dave's hometown is also my hometown, and thus the name of my little Internet consulting firm!

Did you enjoy reading this? You are welcome to subscribe to The Hot Iron by RSS feed or by email.
Diversions
• (1)
Comments
•
Permalink

Page 1 of 1 pages