By Mike Maddaloni on Monday, March 09, 2009 at 04:00 AM with
2 comments
By its definition, a URL – or uniform resource locator – directs you to the exact location of content on a Web site. Depending on the domain name, structure and naming standards of a Web site, a Web page URL can be short or extremely long. Maybe even too long to be useful?
The photo below is of an ad I saw recently on a Chicago subway car, featuring a URL for the Women's Sports Foundation's GoGirlGo! Chicago program.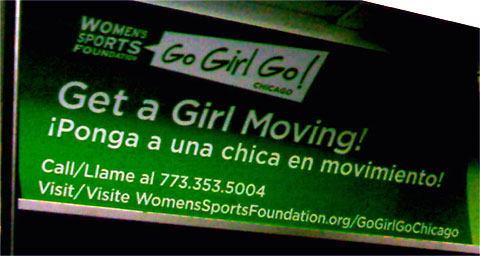 Where I normally would feel bad for calling out something for a non-profit organization, it appears to be well-funded and founded by tennis legend Billie Jean King, so I feel it is my duty to talk about it.
Now close your eyes and see if you remember the Web site. Well? Did you get it verbatim? Now imagine bouncing around on an Orange Line car on the way to Midway airport, and see if you can remember it any easier!
This is a perfect example of acquiring an additional domain name and use it on the advertising, where it would point directly to the desired page. Now close your eyes and see if you can think of some short, catchy and easy-to-remember domain names? Probably a little easier than remembering the printed URL, whether you're on the Orange Line or not.
Where your main Web site URL can be whatever you choose, keep in mind how you will be using it, and if it doesn't work well in a certain medium – whether printed in the newspaper or a poster or spoken on the radio or TV – the small cost of an additional domain name can do wonders for driving traffic from the offline world.

Did you enjoy reading this? You are welcome to subscribe to The Hot Iron by RSS feed or by email.
Technology
•
Domain Names
• (2)
Comments
•
Permalink

Page 1 of 1 pages