By Mike Maddaloni on Sunday, October 13, 2013 at 08:28 PM with
1 comments
Chicago is all about bicycles. From casual riders along Lake Michigan to people taking their bikes to work every day to everyone in between, there are bikes all over the streets and trails in the Windy City. This intensity has been raised in the past few months since the Divvy bike sharing program has started.
Take a look at this picture and see if you can see – or not see – what I don't see. This gave me my idea. With additional inspiration from a recent safety video contest that Divvy ran, as well as the upcoming Chicago Ideas Week, I'd like to share and detail my idea for the Divvy program.
First What is Divvy?
Divvy is a service owned by the City of Chicago and run by a commercial third-party company that offers similar services in other cities. The idea of bike sharing is for taking short bike trips around the city, where you rent a bike from one bike station location, as pictured above, and return it to another. The keyword is "short" as you have 30 minutes to go from one bike station to another. You can pay US$7 per day to use a bike for unlimited 30 minute trips, or you can also buy an annual pass to use the service daily.
The bikes themselves are also custom designed, 1-speed bikes with lights powered by pedaling and more rugged than a standard personal bike. The front wheel locks to the station until it is rented. The seat is adjustable and there is a front rack for carrying items. All bikes have fenders covering both tires to keep you drier in the rain, and are light blue, matching the color in the Chicago flag (with the exception of the one red bike).
Divvy Bikes Are (Almost) Everywhere
Since their rollout, barely a block goes by without the sight of a Divvy bike in motion. Though the intended market for the service is city residents, tourists have been renting them as well. The tourist element may not have been anticipated as there have always been options to rent bikes, carriers and even get helmets from the rental shop. For as bike friendly as Chicago is, bikes are often playing a dangerous game with cars for the same street real estate throughout the city. Where marked bike lanes and even some with dividers exist, they are not everywhere, and many say not as much as are needed.
As you may have guessed by now, there is one thing missing from the Divvy bike program – bike helmets.
Divvy just rents bikes, it is up to the rider to get their own helmet, as is stated in the user agreement on their Web site. However, there are not many retail locations in the city where you can buy helmets. With the launch of a social media video safety campaign the lack of a helmet offering represents a huge missed opportunity.
What Would Have Been My Entry In The Divvy Safety Contest
This would have been my submission for the Divvy safety video contest, a 6-second video I created with Vine. Had I gotten to this earlier, I would have submitted it, but alas I missed the deadline. It's embedded below, or follow this link to view my Divvy bike helmet video on Vine's Web site.
Some Realities Of Helmets
Before I get into details on the offering of helmets, a little setup first. There is no law in Chicago or Illinois mandating the wearing of bike helmets, and I am not advocating one. Personally when I ride a bike, I always wear a helmet, especially as I once flipped my bike and I was glad I was wearing one! As one who believes in helmets, coupled with the Divvy user agreement stating you should wear one, there is an economic opportunity being missed by not offering them, not to mention the potential safety issues with tourists who may not know where they are going meandering the streets of Chicago.
If you look at the above photo and video again, you will see the Divvy bike stations are designed to dispense bikes, and not helmets, which poses its first challenge. Another challenge comes with the various sizes of helmets needed, as a helmet should fit snug on your head to be effective. Finally, if you are going to reuse a helmet it should be disinfected (think bowling shoes!) or each person would get a new, unused helmet.
Challenges as they may be, I see a couple of approaches to handling – or plain out selling – helmets, both in the short term and long term for the Divvy program.
People-Powered Sales
You don't have to go far in Chicago without someone trying to sell you something. From the legitimate sales of newspapers and the Streetwise magazine (which I had a previous idea on, but I digress) to people hawking water, self-made CDs or pure panhandling. Why not have people sell helmets direct to riders as select Divvy stations?
The setup for selling helmets can be simple – wheeled duffle bags full of varying sized helmets, mobile devices with Square-like credit card swiping done by a person wearing a Divvy shirt. If sales of helmets are brisk, inventory can be replenished by the already on-the-road Divvy vans which are restocking bikes at certain stations.
Innovation For The Long Term
You may have seen vending machines selling electronics or other items at airports, train stations and even rest stops on highways. There is even an "ATM" in Chicago that vends cupcakes!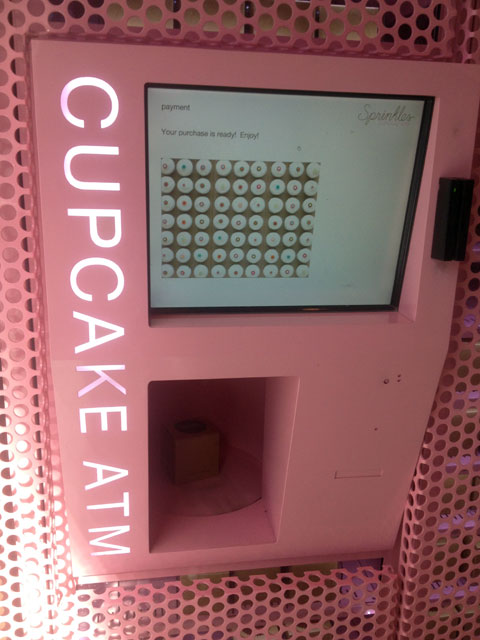 Why not a vending machine selling helmets, integrated into each Divvy bike station?
As Divvy bikes and the stations were engineered for their use, so would the bike helmets and the vending machine. I envision a unique helmet designed so a large quantity of them can be stored in a vending machine. The helmets may also be designed to be adjustable so that fewer sizes are needed? I don't know the answer to how this would work, but I bet there is an engineer who could figure it out. The vending machine itself would be designed to not take up much space and integrate with the current purchasing function of the station.
Beyond The Helmet
As the typical cost of buying a helmet is more than the cost of a daily rental of a Divvy bike, marketing and sponsorship opportunities could decrease the cost of helmets. Would Nike or Groupon or PNC Bank pay money to put their logo on what is in essence a traveling billboard around the streets of Chicago?
And while they're at it, where are the ads on the bikes themselves? It would certainly contribute to what is in essence a taxpayer-funded program.
Take My Idea Please!
Though Divvy is still a few months old, it has great popularity and exposure. My idea isn't the only one out there for the service – this story is on an app created by a Chicago resident for logging miles, but was taken down as it violated the Divvy terms of service. Of course if Divvy made available – or even sold – data or the capacity to access it via an API, then there could be even more innovation and potential revenue.
As I myself am in no position or have the time to act on this idea, go ahead and take it and run with it. All I ask in return is a pat on the back and maybe the first helmet off the assembly line.
I also welcome your feedback – and ideas – in the comments of this post.
---
This is from The Hot Iron, a journal on business and technology by Mike Maddaloni.
---
Did you enjoy this? Subscribe to The Hot Iron by RSS/XML feed or Read by Email.
---
Business
•
Technology
•
Strategize
• (1)
Comments
•
Permalink

Page 1 of 1 pages