By Mike Maddaloni on Monday, October 27, 2008 at 04:00 AM with
2 comments
Did traffic increase to The Hot Iron following my participation in the Nokia OpenLab in Helsinki last month? In general I would hope so, as after meeting many interesting people I started following them online, and I would hope someone would be interested in what I have to say! But the numbers do not lie, and here's a summary of activity on this little blog.
In this analysis, I used 2 sources. I use
Who's Lookin?
, a service by
Fiodan Corp.
, for tracking and reporting daily activity. Every morning I receive an email report of top pages accessed, top referring sites, as well as what networks have visited. This is an excellent indicator of traffic volume and where it is coming from. Watching this report on a daily basis, I saw increased international traffic, and traffic coming from Nokia itself, mostly after OpenLab. These reports gave me a good "gut" feel that I did receive some sort of bump in traffic. For the sake of full disclosure,
Dunkirk Systems, LLC a value-added reseller of Who's Lookin?
and am more than glad to talk to you about how this service can help your business!
Google Analytics is the other source of data for this analysis. I did a comparison of 2 date ranges – the month of August, 2008 vs. September 2008. As I did my original post on OpenLab on September 1, this would give a good indication of what traffic was like beforehand and after the fact. Below is the chart of Analytics comparing visitors over those periods.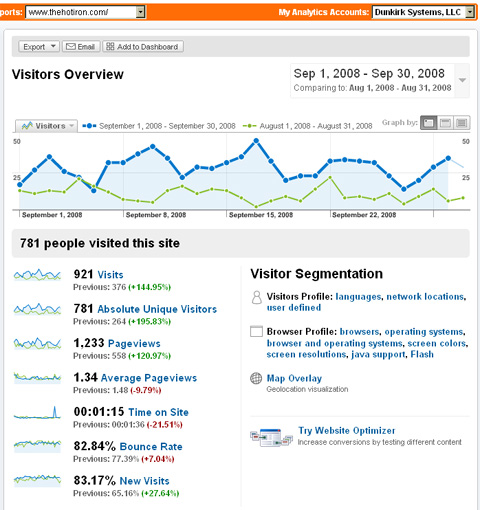 As you can see, there is a definite increase in visits to The Hot Iron, but it did not lead to people spending more time once they arrived. The next analysis I did was on new vs. returning visitors, and here is the Analytics comparison during the same periods.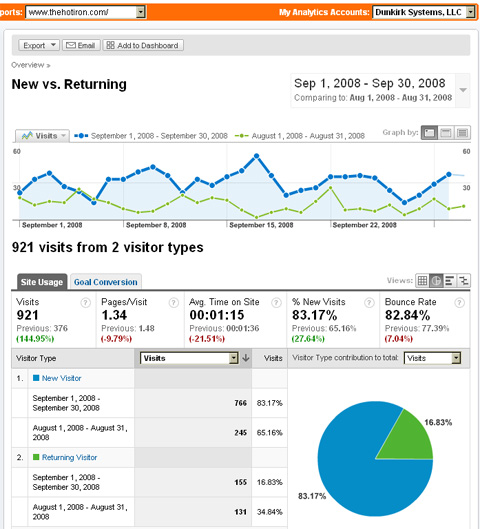 As you can see, there are many new people, and for those who are new, welcome!
Two other areas I looked at showed no increases – searches and Feedburner subscriptions. OpenLab did not figure into the top search terms that drove traffic to The Hot Iron. Also, there was not a significant change in Feedburner subscriptions. Feedburner does not allow you to analyze traffic beyond 30 days, plus I have always found strange fluctuations in subscriptions on a daily basis that I haven't considered that a serious traffic stat. I look forward to its further integration into Google, and perhaps into Analytics as well.
In summation, I did receive some bump during the period after OpenLab. If you are one of those who started reading after OpenLab – or not – please feel free to comment as to what brought you here.

Did you enjoy reading this? You are welcome to subscribe to The Hot Iron by RSS feed or by email.
Business
•
Mobile Technology
• (2)
Comments
•
Permalink

Page 1 of 1 pages