By Mike Maddaloni on Wednesday, April 29, 2009 at 04:00 AM with
1 comments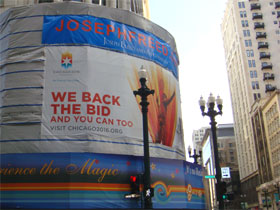 The International Olympics Committee is now touring the candidate cities for the 2016 Summer Olympics, and their first stop was Chicago a few weeks ago. Everywhere you looked throughout the Windy City, there were signs promoting the games coming here in 7 years. There were also a few signs against it, but that's a topic for another time.
The signage was branded with the Chicago 2016 logo and imagery, as shown in the accompanying picture, which is at the corner of State and Madison Streets. It also features the recently changed tag line, "Let Friendship Shine," which replaced the former one, "Stir The Soul." Apparently the old tag line did not translate well into other languages. As someone who thinks about domain names as much as I do, I wondered if the Chicago Olympics Committee registered the domain names for the new tag line. From the looks of the registration data and registered domain names, it is not 100% clear if they did or not.

Searches of the WHOIS database using DomainTools show registrations for letfriendshipshine.com, .net, .org and .us. There was no registration for the other "primary" TLDs of .biz and .info. I did not extend the search beyond these TLDs. Looking at the registrants of these domain names, the .com and .org have private registration on them, which is a service to mask the true owner of the domain name. The .net is registered to a company in Chicago, and the .us is registered to an individual in Chicago. All 4 domain names point to parked pages which display advertising.
I then looked up the registration of the main Chicago Olympics Committee domain name, chicago2016.org, and its registrant was also masked by private registration, and the same one as letfriendshipshine.com and .org. It can be inferred these 2 domain names are owned by the Committee. I did not contact them to ask. As for the others, it can be inferred they are not.
Part of the reason for being inquisitive surrounds the registration of chicago2016.com, which was registered prior to the .org by an individual in Chicago. It is tied to a Web site offering a fair and balanced economic discussion about the Olympics coming to Chicago. The Chicago Olympics Committee filed a case to win back the name, but lost. Perhaps they did their diligence this time and got the domain names before the new tag line was announced.
If they do own the domain names, 2 questions come to mind. Why not register all available TLDs? In the grand scheme of things, domain names are cheap! Also, why not use them? A quick Google search found zero results for the official Chicago Olympics Web site for "let friendship shine." Where getting the name to protect the brand is smart, actually using it can return great results in your investment.

Did you enjoy reading this? You are welcome to subscribe to The Hot Iron by RSS feed or by email.
Business
•
Domain Names
• (1)
Comments
•
Permalink

Page 1 of 1 pages