By Mike Maddaloni on Sunday, June 01, 2008 at 06:16 AM with
3 comments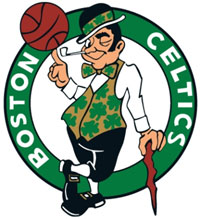 It was a great time to grow up in the 1980's in New England. Let alone the music and outfits, but having your favorite basketball team winning the NBA championship 3 times, on top of their other 13 titles, it was good to be a Boston Celtics fan. From the Big 3 – Larry Bird, Robert Parish and Kevin McHale – to the supporting cast including M.L. Carr's twirling towel, the C's were a powerhouse and it seemed it would last forever.
A major part of the Celtics run in those days was their rivalry with the Los Angeles Lakers. Much of it had to do with each team's key stars, Larry Bird for the Celtics and Earvin "Magic" Johnson for the Lakers, extending to their college championship game in 1978, where Bird's Indiana State lost to Johnson's Michigan State. Though the rivalry was intense, you could see and feel the respect those players had for each other.
After the 1986 NBA title banner was hoisted to the rafters of the Boston Garden, the men in green went through 2 lean decades, plagued with the deaths of Len Bias and Reggie Miller Lewis and coaches who couldn't put it together. As a former season ticket holder, I still have the letter from former coach M.L. Carr apologizing for the performance of the team in his last season as coach. But after a change of ownership and what was believed to be controversial personnel changes by general manager – and former player – Danny Ainge, the Celtics are back in the NBA finals, and back against the Lakers.
Go Celtics! I'll be cheering along with the throngs of Boston fans here in the Windy City. Though it's a different Big 3 in Pierce, Garnett and Allen, we are confident and hopeful against a once-again formidable opponent.
Diversions
• (3)
Comments
•
Permalink

Page 1 of 1 pages