What I Learned This Week For March 7 2014
By Mike Maddaloni on Friday, March 07, 2014 at 01:00 AM with 0 comments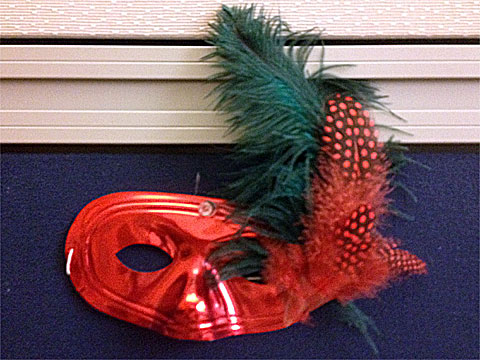 Rather than showing a scribbled sticky note with my learned knowledge for the week, I decided to show my decoration for Mardi Gras.
A color photo of a new air filter for my car is not going to compel me any further to have it replaced when all I wanted today is an oil change.
Watching the Stadium Series game played at Chicago's Soldier Field, the home of football's Bears, between hockey's Chicago Blackhawks and the Pittsburgh Penguins was a lot of fun, even as I was watching it on TV. With the snow falling, it gave me a déjà vu moment to a few years ago when Boston University played Boston College at Fenway Park a week after the pro-hockey game there. In this case, I was there in stands at Fenway for this amazing experience.
If you find yourself in New York City and need a good laugh, check out my friend Andrew Cornelius' Web site to see when he is next performing.
In the process of troubleshooting a technical problem with my podcast app on my mobile device, I unsubscribed to all 6 of the podcasts I had in my queue. Rather than resubscribe at once, I decided to subscribe as I had time to listen to something new. First I subscribed to No Agenda and after several weeks I finally subscribed to another, The Voicemail. Not sure when I'll get back to 6 or what my number will be.
I almost snorted my coffee out of my nose the other morning when reading my favorite Web comic, Questionable Content when Angus called out Faye for saying 'wicked.' The comic takes place in Northampton, MA, not far from where I grew up and a tell-tale sign of a "Masshole" is if they say wicked a lot.
Life won't be the same in my house after the DVD for the movie Frozen comes out on March 18.
Not a meeting goes by where someone is saying they are looking at something from their 'perspective' or that of their team or function. But who is looking at the big picture?
Not a day goes by when I am not telling someone about the blog Leadership Freak by Dan Rockwell. Each day he posts extremely usable prose on leadership, all under 300 words. There's no reason why you shouldn't subscribe to it by email or RSS. Special thanks to Dr. Dietmar Schloesser for being the source of knowledge on this great blog.
Tickets are now for sale for the Spring Benefit for Chicago's South Loop Elementary School on Friday, May 16 at 6pm at the Hyatt Chicago Magnificent Mile. This year marks the silver anniversary of the school, and the red carpet will be rolled out for all who wish to have a great time while supporting this great community school.
In preparation for their activities at the South by Southwest Interactive Conference in Austin, Texas which starts today, my friends a Name.com wanted to show how they will promote small businesses at the conference, so they used me as an example. Jared, their social media director, is an amazing actor and video producer as well as keenly in tune with the needs of their community and made this awesome video which is embedded below or you can watch on the Name.com channel on YouTube. And when I say friends, I mean it – it is because of a personal connection that I learned about Name.com over 6 years ago and their team applies the personal touch, plus strong business and technical acumen, to all they do. And I am not just saying this because Jared pronounced Maddaloni correctly.
---
This is from The Hot Iron, a journal on business and technology by Mike Maddaloni.
---
Did you enjoy this? Subscribe to The Hot Iron by RSS/XML feed or Read by Email.
---
Announcements
•
Blogging
•
Business
•
Technology
•
Domain Names
•
Thrive
• (0)
Comments
•
Permalink
Comments

Post a Comment
Note: Comment moderation is active, and your comment will be viewable once it is reviewed.