What I Learned This Week For March 14 2014
By Mike Maddaloni on Friday, March 21, 2014 at 07:50 AM with 2 comments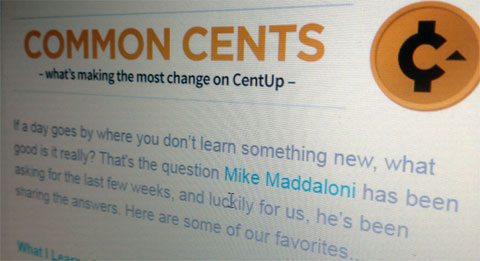 Though today is March 21, 2014, I am finally publishing what I learned for the previous week. Just as I was about to pass on the list from last week and focus on this week to be current, I get the latest newsletter from CentUp, which featured several items from the last few What I Learned posts! Needless to say this piqued my interest in finally typing up last week's list. And the ego stroke wasn't bad either.
The Pringles brand of potato "crisps" is now owned by cereal giant Kellogg's and has been since 2012. Is it only a matter of time when the Pringles breakfast cereal comes out?
I pre-ordered a domain name with one of the new global top-level domain names (gTLD). I won't say what it is as I don't want to jinx it in case others registered it. But if I get it, it will be put to major use.
I don't know who Victoria Carpenter is, but I have no idea why or how she is liking my Facebook status as being "so cute" over and over and over again, especially as I quit Facebook over a year ago. Yes, I realize it is spam, and it's clearly not working.
A new app was announced to pay for parking meters in Chicago. Where it will offer the convenience of adding more time to your parking from the app remotely (aka not running back to the car), I can only imagine the problems that will come from this. Currently in Chicago you buy a paper receipt to put on your dashboard for your time to park. Even with this "foolproof" system, many parking tickets are issued to people who have paid for parking – I know some personally. The only way to fight it is to go to court. I have no idea what the app or software that the meter checkers will use, but I can only see more headaches for parkers.
Most people do not know how to take a screenshot or screen capture from an iPhone, let alone a PC or a Mac.
Despite what Dr. Seuss wrote in his first children's book, "And to Think That I Saw It on Mulberry Street," Bliss Street does not intersect with Mulberry. I know, as I used to live near THE Mulberry Street in Springfield, MA.
The domain name digital.com is up for auction. It's last major use was as the primary domain name for Digital Electronics Corporation, or DEC for short, the former mini-computer and PC manufacturer based in Maynard, MA. As someone whose first mini-computer was a DEC PDP/11 and grew up knowing many people who worked for DEC, it is sad to see it for sale. At an opening bid of US$100,000 I am not sad enough to buy it myself.
I have been asked to be part of a career-mentoring group for a trade organization in Chicago. The group is one of several "pillars" the group is building to work with young people starting in their careers. I am excited to get started with it and will surely report more on it soon.
The week before I mentioned my good friend Andrew Cornelius who is a talented actor, comedian and improviser. He has created a new demo reel of his work, and present it for your viewing pleasure. I would have included it in the last installment, but it was trumped by the Name.com video featuring me. There's that ego again.
---
This is from The Hot Iron, a journal on business and technology by Mike Maddaloni.
---
Did you enjoy this? Subscribe to The Hot Iron by RSS/XML feed or Read by Email.
---
Announcements
•
Blogging
•
Business
•
Technology
•
Domain Names
•
Social Media
•
Thrive
• (2)
Comments
•
Permalink
Comments
I can't wait to see what domain you bought with the new TLD.
Comment by
Matt Maldre
on 04/06/14 at 09:41 AM
---
Hi Matt - You can see it in this post - http://www.thehotiron.com/index.php/site/comments/why_i_registered_a_.uno_domain_name/
mp/m
Comment by
Mike Maddaloni
on 04/06/14 at 10:18 PM
---

Post a Comment
Note: Comment moderation is active, and your comment will be viewable once it is reviewed.