What I Learned This Week For July 4 2014
By Mike Maddaloni on Wednesday, July 09, 2014 at 10:51 PM with 0 comments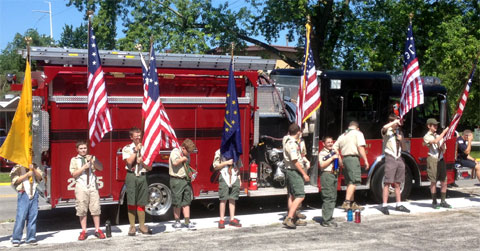 With the sound of sirens wailing in the background on this late evening in downtown Chicago, as I go thru my notes and tweets of the holiday week of previous, I don't have as much noted, but here goes…
Once again I reinforced my love of small town US Independence Day celebrations, as my family and I spent the holiday in Munster, Indiana. From fireworks the night before to a bicycle parade for kids the next morning, it was great to be around great friends and great conversation, much of it around our country today.
Speaking of fireworks, where we saw the official city-sponsored fireworks, we saw probably 10 times as many displays put on by individuals, as fireworks sales in Indiana are legal. Some of what we saw came close to rivaling anything I have seen launched in big cities as well. That Krazy Kaplan is not so crazy after all.
I now have a better understanding why the term "PTO", for paid time-off, is used instead of the traditional term "vacation."
Where you can learn how to do just about anything online these days, formally or informally, learning from others provides the needed context and paints the complete picture of something.
After gaining bits and pieces of his latest idea, I was pleased to see my friend and fellow Chicagoan Len Kendall launch a Kickstarter for Cartegram, an adventure game that involves tagging – literally and online – sites as you travel and logging them in a paper notebook as well as online. I am looking forward to the formal launch of this simple yet elegant idea, and as of the writing of this post there is still time to get in on the fun!
In a previous post I had mentioned about Chicago's app for paying for on-street parking, ParkChicago. I finally got the opportunity to use it one day and it came in extremely handy, as I was parking during a torrential downpour and never had to get out of my car to go to the meter box and buy a ticket. The app user experience is very nice as well. Where parking on the mean streets of Chicago is certainly not cheap, it is a little more convenient.
In my ever quest to simplify my life, I have found merely finishing something goes along way to achieving this simplicity.
Over the winter I was asked to give a video testimonial on my daughters' daycare center. Last week I learned part of what I said was selected for the video, which you can watch embedded below or watch on YouTube directly. After watching it over and over and over several times, I wished I was smiling more, but overall I think I did a very good job. I'd love to hear what you think about it, and feel free to send them in the comments section of this post.
---
This is from The Hot Iron, a journal on business and technology by Mike Maddaloni.
---
Did you enjoy this? Subscribe to The Hot Iron by RSS/XML feed or Read by Email.
---
Announcements
•
Blogging
•
Business
•
Social Media
•
Strategize
•
Diversions
• (0)
Comments
•
Permalink
Comments

Post a Comment
Note: Comment moderation is active, and your comment will be viewable once it is reviewed.