What I Learned This Week For August 22 2014
By Mike Maddaloni on Saturday, August 23, 2014 at 11:26 AM with 0 comments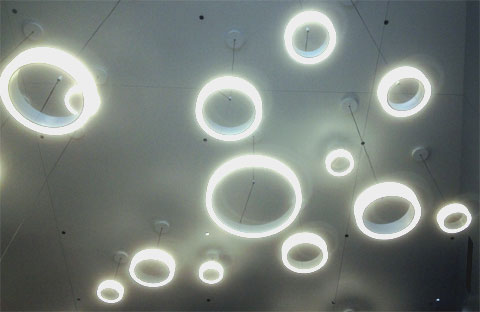 Armed with a to-do list, and an item named "write blog post" has helped me get this relatively on-time out the door!
I visited "The Maxwell" this week. It is a retail complex in Chicago's South Loop, whose name comes from the now-gone nearby Maxwell Street retail area. It combines street-level stores, upper level stores accessible through a lobby and parking. The lobby is nothing to look at, but its ceiling is, and is pictured here.
Did you know I am renting my Chicago Loop loft condo?
I had keys made this week at that big-box orange-logoed hardware chain. They had this machine that scanned the keys then cut them. Impressive, only that one of my keys did not work in one door. Then I went to the local Ace hardware store who had one of the "old-fashioned" key cutters where you manually trace the key to make a duplicate, and the key worked perfectly.
I had an extremely positive experience with Comcast customer service this past week, and an incredibly painful experience with their technical support a few days later.
The more I learn about mobile app development, the more I realize people don't really know what their app is doing, such as what and when it is accessing something either on your device or over the Internet.
I have heard about IRS form 990, which a non-profit must file with its taxes. However, I have not ever really looked at one at depth or compared them against other organizations. I did so this week, for the group Barrel of Monkeys whose Board I have joined, as well as for the Lyric Opera of Chicago. Just create an account at GuideStar and look away!
Strep – it's not just for your throat, and you can get strep in your nose and other body parts I won't mention.
You can stain concrete. It is similar to staining wood, in that you are enhancing the appearance of the texture.
My 10+ year old grocery cart finally came to an untimely collapse when one of the wheels snapped off and I wasn't able to repair it. I am honestly surprised it lasted that long.
Amazon has a new feature called Amazon Smile where a non-profit organization you choose can earn a percentage of your purchases when you use the specific URL smile.amazon.com. It is unclear if the charity can earn money when you use the Amazon mobile app. I chose the Omayra Amaya Flamenco Dance Company Inc. to receive whatever pennies they can earn from my purchases. Omayra was a long-time client of my Web consulting business and she is an amazing dancer and performer. Check out her Web site and look for videos of her online to see, and choose her dance company to earn whatever you can send their way.
This blog was down for about 8 hours this past week – did you notice?
After my ordeal with Comcast I hooked up a new wireless router, a Cisco/Linksys EA3500. When I went to run the setup, I noticed something called "Smart Wi-Fi" which immediately caused me to shudder – this wasn't the typical, very techie setup and router administration I was used to. First off, it wanted me to create an account to remotely administer my router. Really? Then, the setup failed, which never – ever – previously happened to me. After a little searching, I found similar people lamenting to this, and a solution to revert to the traditional, previous router administration Web interface. Not surprising, everything worked as expected.
Did I mention I am renting my loft condo in the Chicago Loop? Actually, I did blog about renting my condo.
This week someone closed an email with "be good to yourself!!!" This took me aback. First, this is nothing I have ever gotten in writing from someone. As I thought more about it, I was trying to think of the last time anyone ever said it to me. Then it dawned on me, it did happen, and way back in the day, by people I have never met in person. Yes, I am referring to the song Be Good To Yourself by Journey. Watch it on this link to YouTube or see it embedded below, and either way take a trip back in time… and be good to yourself!!!
---
This is from The Hot Iron, a journal on business and technology by Mike Maddaloni.
---
Did you enjoy this? Subscribe to The Hot Iron by RSS/XML feed or Read by Email.
---
Announcements
•
Blogging
•
Business
•
Technology
•
Mobile Technology
•
Strategize
• (0)
Comments
•
Permalink
Comments

Post a Comment
Note: Comment moderation is active, and your comment will be viewable once it is reviewed.