Viivant Powerbank Unboxing and Initial Thoughts Video
By Mike Maddaloni on Tuesday, January 20, 2015 at 09:26 PM with 0 comments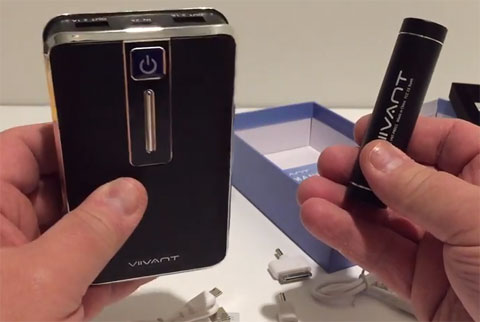 It's a power grab out there, and it's every woman, man and child for themselves!
No, I am not talking about politics, rather something even more daunting of a challenge – the battery life of mobile phones and other portable devices.
The more we use these devices, the more we need them powered. In addition to this take into consideration that these devices can drain power from batteries unbeknownst to us, due to everything from leaving features turned on when unneeded to poorly written software running on them. Add to it that batteries are not made to last forever as well as many devices are not made to let you change the battery, it is no surprise a market has been unleashed over the past years for portable, external battery chargers.
When I heard about the Viivant Powerbank product line, I was interested to see what they were bringing to the marketplace for batteries – from design to features. I just received a Viivant Powerbank set to evaluate, and below is the video of the unboxing of the batteries (yes, 2) and my initial thoughts and impressions. You can view the embedded video or click here to view the Viivant Powerbank unboxing video on YouTube.
My initial thoughts can only be related to the appearance of the batteries, prior to me putting them to the ultimate test of charging my various devices around the household. As I mentioned there are 2 batteries – a larger one which can charge a device up to 7 times and has the ability to charge 2 devices at once. It also has a stylish case and power remaining display. Also included is a smaller, short cylindrical battery which can hold a single charge for a single device. It also has a color indicator for charging, but the light is within the case and is only illuminated when something is plugged into it.
Compared to other batteries I own and have seen, these are very comparable in size and weight. The larger battery has a unique design to it, and the fact it can charge 2 devices at once is an extremely functional and needed feature. I am also impressed that both of these are bundled together – most other batteries I have seen are only sold individually, and I bought my own current high-capacity battery and smaller-capacity ones separately. Couple this with competitive pricing on Amazon, the Viivant Powerbank batteries are also a very affordable option as well.
Next Stop, Wonderland
As I write this I am charging the batteries and will put them to the true test. I plan to report on how they do – either here and/or on my Twitter account @thehotiron.
I must also note that I did receive these batteries from Viivant for evaluation, and there was no expressed or implied contract as to how I use them or what I say about them. Why am I saying this? Read this post here on The Hot Iron about the FTC and I'll leave it at that and wait for these batteries to charge.
Do you own a Viivant Powerbank? Are you considering getting one? Do you have any questions for me as I evaluate them? Please leave your message in the comments to this post.
---
This is from The Hot Iron, a journal on business and technology by Mike Maddaloni.
---
Did you enjoy this? Subscribe to The Hot Iron by RSS/XML feed or Read by Email.
---
Technology
•
Mobile Technology
•
Strategize
• (0)
Comments
•
Permalink
Comments

Post a Comment
Note: Comment moderation is active, and your comment will be viewable once it is reviewed.