My Takeaways From The Book Things Are What You Make Of Them
By Mike Maddaloni on Thursday, November 30, 2017 at 09:28 PM with 0 comments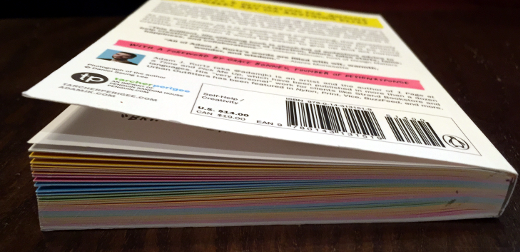 There are no shortage of books, blogs and articles out there offering career advice. In fact, you are reading something from one of them right now! If anything, they all have something in common – long narratives, loaded with stories and real-life examples, explaining in great detail the author's point-of-view.
The new book, Things Are What You Make of Them – Life Advice for Creatives by Adam J. Kurtz, is a book that, as you can guess by the title, is in the above-mentioned genre, but its format and structures breaks the above-mentioned mold. Where it offers career advice, its format is unique – there are just over a dozen "chapters" – each beginning with a description, then a hand-written list of 8 points, followed by 8 pages, also hand-written, corresponding to each point on pages no more than 4 inches by 6 inches.
As I said, this book is unique, and refreshing. The advice is written with a mix of Kurtz's sense of humor and his brutal honesty. It's a short read, which you can finish in less than an hour, but gives you a lot to think about for a long time and easy to remember – each page has a colored border by chapter, and all pages are perforated for easy removal and hanging up in a prominent place.
As you can guess, this book gave many things to takeaway from it.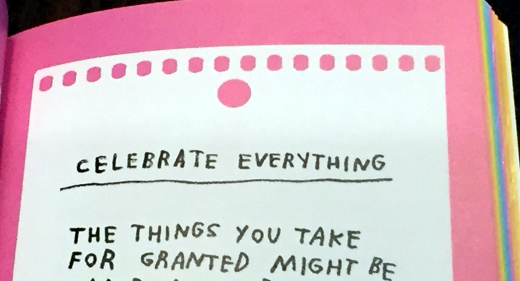 Define creative – As the book's subtitle is "Life Advice for Creatives," some of you reading this may think, this book is not for me as I am not "creative" in the sense of a designer or artist, as the author is. To borrow a phrase, bollocks! Many of us, where we may be in a corporate job that is not defined with words such as "artistic" are actually creative in nature – we are using our brains and imagination to find creative solutions for our employers or clients. To borrow another phrase, this one by from Kurtz's own definition of "creative" in the book, it is "… a person who defines themselves, in some way, by their creative passion or profession." I love this description and feel it suits myself, and it may suit you as well – think about it.
Take away what works for you, literally – In any book, you can find yourself liking and disliking various parts of it. This is in fact why I write takeaways from books rather than reviews of them. With this book if something resonates with you, you can then literally and easily remove it as all pages of the book are perforated, then post it someplace as a reminder or inspiration.
More books are needed in this format – From its small size to its vibrant colors to perforated pages to its concise advice, more books should be crafted this way. It reminds me of the book 52 Motivational Quotations for Salespeople by my good friend Tom Cruz, which has each quote on a separate page so they can be removed and displayed prominently. Especially in our fast-paced digital world, it allows us to take a brief time out, read and reflect.
When I heard about Things Are What You Make of Them, I preordered it right away. I learn about Kurtz and his creative work from his book 1 Page at a Time, which I bought and am still using as an (almost) daily creative outlet. His light-hearted approach has drawn me to his work, and it makes me smile and think at the same time.
After finishing this book, I decided to give it to someone who is a very creative person, and am eager to hear their thoughts on it as they read through it.
---
This is from The Hot Iron, a journal on business and technology by Mike Maddaloni.
---
Did you enjoy this? Subscribe to The Hot Iron by RSS/XML feed or Read by Email.
---
Book Take-Aways
•
Thrive
• (0)
Comments
•
Permalink
Comments

Post a Comment
Note: Comment moderation is active, and your comment will be viewable once it is reviewed.