My Takeaways From The Book Manage Your Day-To-Day
By Mike Maddaloni on Tuesday, February 23, 2016 at 08:22 AM with 0 comments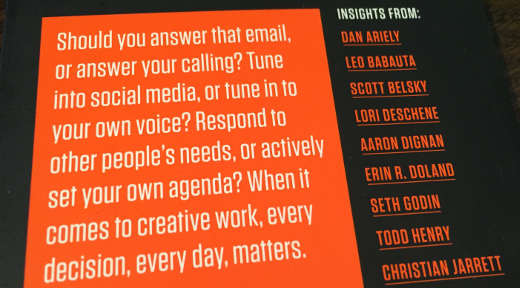 So, how is your day going?
Whenever asked that question, or just now as you read it, you may have begun it with a sigh or groan, or some insincere sense of enthusiasm. As much as we can plan days and focus on whatever we need to do, there are plenty of factors working against us and disrupting our momentum. These disruptors will never go away, and our only choice is to try to bring elements in to manage or counter them.
When I heard about the book Manage Your Day-To-Day: Build Your Routine, Find Your Focus and Sharpen Your Creative Mind I said to myself, "self, how can I pass on reading this?" The book is a collection of writings and interviews with 20 "creative minds." Where some I have heard of, like Seth Godin and Tony Schwartz, most of the rest I had not. Yet each of the contributors were very intriguing, yet practical. Manage Your Day-To-Day is a good read that gets you thinking about your own routines and practices and how to get the "most" from them, whatever "most" means to you.
As I read the book, my takeaways from it were not from the specifics of the book, rather from its big picture, and are as follows.
Misery loves company, but only if you want to be miserable together – As I read the dozen pieces from the 20 authors, nobody was saying that they have overcome chaos and their lives are exactly as they want them. Yet they did admit to challenges and offered both general and specific advice on how they are conquering what challenges them.
You deserve a break today – How many times have you been working on something and someone asks you about lunch, and you are thinking, "gee, I just had breakfast!" (Ok, you can put your hands down now.) I have written man times here at The Hot Iron about the creative process – or if you are so inclined, simply thinking – and the need to get away to change the scenery, recharge the brain and come back with a fresh focus.
In my current role, in the employee handbook for my firm it actually mentions taking breaks during the day just for that reason. As a matter of fact, I am writing this very blog post on one of those breaks. And on the way to the Starbucks where I am writing this, I was able to easily think through something for work that my brain kept tripping on. Where I thought I dropped the ball on something, I actually did not, and completely followed through. A nice thought to have in my head as I return to the office.
Where was Scrum? – As I read this book after reading Jeff Sutherland's book on Scrum, using Scrum would be a perfect way to help you manage the creativity. As a matter of fact, I recently setup my own scrum board for myself, with tasks such as writing this blog post and fixing the closet doors in my kid's bedroom.
I recommend Manage Your Day-To-Day for anyone who is looking for ideas and encouragement on improvement of their productivity or just to add some calm into their lives. This book is one I bought myself after reading about it somewhere – sorry, I forgot, as I have had the book for a while. As I always pass along books, for this one I placed it on a shelf in the kitchen of my office with other books people have left there as a mini-library. It will be interesting if anyone takes it, and even more so if they took it after reading this blog post!
Have you read Manage Your Day-To-Day? I welcome your thoughts on the book in the comments of this post.
---
This is from The Hot Iron, a journal on business and technology by Mike Maddaloni.
---
Did you enjoy this? Subscribe to The Hot Iron by RSS/XML feed or Read by Email.
---
Book Take-Aways
•
Business
•
Strategize
•
Diversions
•
Thrive
• (0)
Comments
•
Permalink
Comments

Post a Comment
Note: Comment moderation is active, and your comment will be viewable once it is reviewed.