My Takeaways From The Book Confessions Of An Economic Hit Man
By Mike Maddaloni on Saturday, May 06, 2017 at 02:21 AM with 0 comments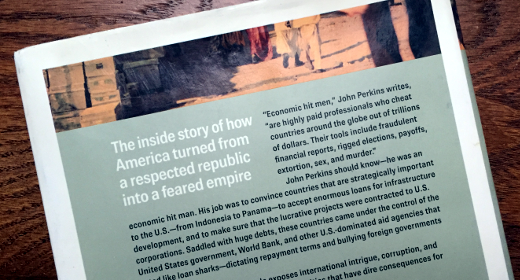 Everything happens for a reason. That phrase is something I have always believed in. Even if I don't know what that reason is, or don't believe the reason when I hear it, I have always felt that somewhere, someone knows why something happened.
This phrase came to mind as I read the 2004 novel Confessions of an Economic Hit Man by John Perkins. The book, which he says is truly that, his confession – is about how corporations have worked and continue to work on behalf of the US government to gain influence, allies and assets from other countries for the benefit of said corporations and the US government, but not necessarily for the countries they are purporting to help.
As you might guess, Perkins states he was an economic hit man, or EHM. The book is the story of his life from growing up in New Hampshire to being offered the role and traveling the world doing the bidding of others through the consulting firm he worked for. When successful, he benefitted greatly. When not, he still got paid, but then handed the work off to others to get the job done, presumably at any cost.
As I read this tale of international intrigue, many thoughts swirled through my head, including the following takeaways.
Act Locally – Perkins traveled the world as an EHM. He didn't do it sitting behind a desk in his Boston office. Granted this was the 1970's and 1980's and you didn't have the tools of the Internet we have today. But if you want to be effective and close the deal, you have to directly connect with others, on their turf. I have done this before and in the case of an EHM, for good or bad.
Tell Your Story Well – With a topic like this, it is easy to dismiss it as a farce and conspiracy theory without even reading one word of it, Now I am not saying this story is 100% true, as I have no clue. I am simply absorbing what the author wrote. But what he wrote, though, is a well-told story where he ties world events in with his own tale. If it is 100% false, then he is an amazing fiction writer.
Everything Happens For a Reason – See what I wrote above. What Perkins wrote about may or may not be the reason – again, I don't have any special insight, I can only take him for his word. Then again, what I've seen in headlines over the years, my hunch is there is more to the truth than fiction. And as Mark Twain once said, truth is stranger than fiction.
If you have any interest in current affairs, world politics or simply love a great story, I recommend Confessions of an Economic Hit Man. I bought this book myself, and as I pass along all books I read, this one is going to a good friend who is an international consultant who himself has traveled to all corners of the planet. Is he an EHM itself? I don't know, and if he is I'm not sure I even want to know for sure.
Have you read this book by John Perkins? If so, what did you think? I welcome all thoughts in the comments to this post.
---
This is from The Hot Iron, a journal on business and technology by Mike Maddaloni.
---
Did you enjoy this? Subscribe to The Hot Iron by RSS/XML feed or Read by Email.
---
Book Take-Aways
•
Strategize
• (0)
Comments
•
Permalink
Comments

Post a Comment
Note: Comment moderation is active, and your comment will be viewable once it is reviewed.