My Blogging Guest Lecture At University of Wisconsin-Oshkosh #uwonewmedia
By Mike Maddaloni on Friday, February 13, 2015 at 04:54 PM with 0 comments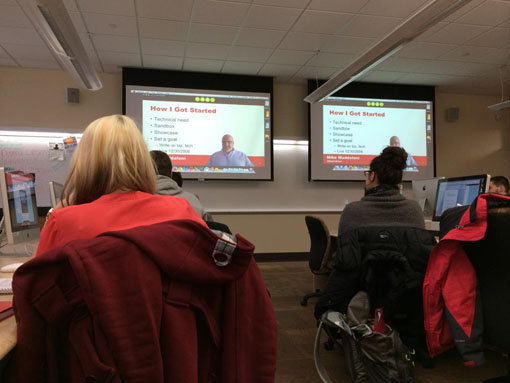 Photo credit: Wilke (‏@Wilke_411) via Twitter
Yesterday I had a distinct honor to guest lecture to college students on the topic of blogging.
I was invited to speak to 2 classes at the University of Wisconsin-Oshkosh by journalism professor Dr. Sara Steffes Hansen. As part of her classes where she is teaching the students all aspects of blogging, each student is building a real, public blog. What better way to learn blogging than with real-life experience?
As someone who has his own blogs and has built blogs for clients, I have learned on the job about blogging as well as keeping up with trends and changes to blogging over the years. One challenge was focusing on key elements to share with the students and keep it to a brief presentation with time for their questions. Another challenge was that I would not be able to be physically in the lecture hall on the Oshkosh campus, yet deliver my messaging in an interesting and engaging way.
As with my own writing style, I decided to tell the story of how I got into blogging myself and then focus on areas that I felt were important to the students, including the art and science of writing and writing on a regular basis, plus some key pointers about blogging such a sharing and social media integration.
For the presentation itself, I created PowerPoint slides and used technology from Personify to literally insert myself into the PowerPoint presentation so that when the students were looking at the screen they saw both the slide material as well as myself, as you can see from the picture above. As the Personify technology is extremely unique in itself, I'm already writing another post on using Personify and how I was successful in conveying myself, my style and my message to the students remotely – watch for it soon.
I have posted the slides from the presentation to SlideShare and you can link to it here or view embedded below. I kept the slides at a high-level and spoke to the details so that the students did not have to read slides, and by using the unique Personify technology I was able to make that happen very well. If you look at the slides and are wondering about the references to Ernest and Edgar, those are to 2 "other" famous Chicago-area writers, Ernest Hemingway and Edgar Rice Burroughs, as I used them as examples of different approaches to writing.
Thanks again to Dr. Hansen, the team at Personify and the students who asked great questions and shared the presentation on social media. It was great getting back into the classroom and I am looking forward to my next opportunity.
---
This is from The Hot Iron, a journal on business and technology by Mike Maddaloni.
---
Did you enjoy this? Subscribe to The Hot Iron by RSS/XML feed or Read by Email.
---
Announcements
•
Blogging
•
Build
•
Technology
•
Social Media
•
Strategize
•
Thrive
•
Web Design
• (0)
Comments
•
Permalink
Comments

Post a Comment
Note: Comment moderation is active, and your comment will be viewable once it is reviewed.