GoPats.com Announces Its Retirement As Patriots Fan Web Site
By Mike Maddaloni on Tuesday, September 05, 2017 at 05:50 PM with 0 comments

After 21 seasons of serving the fans of the NFL's New England Patriots, GoPats.com announces its retirement, according to its co-founders Mike Maddaloni and Clint Mills.
At the time of its launch in the mid-1990's, GoPats.com was one of only a handful of Patriots fan sites worldwide. In these early days of the Web, with copyright laws still murky for online content, the site, originally called Patriots Unofficial, focused on original content, including its flagship column, Clint's Corner. Even when the NFL and the Patriots encouraged fair-use of its logo and branding, the site remained true to its origins, even with the number of fan sites increasing.
The site first launched in "beta" in the fall of 1995, when Mike created one of his first Web sites as a way of learning the emerging Web technologies. Upon showing the Patriots page to Clint – whom he met at work and they became fast friends over the team, as Clint was a second-generation season ticket holder and Mike was a new one – he expressed his dismay that it was not worthy of the team.
Miffed at this, Mike told Clint to put his money where his mouth was and provide content to the site. An extremely loyal and knowledgeable fan of the Pats and all of football, Clint wrote an off-season article on March 13, 1996, and this date is considered the official launch of the site. The eponymous domain name was added in 1997 at Clint's insistence, trailblazing in the trend of personal Web sites being branded with their own domain name.
From its humble beginnings just prior to the Pats second Super Bowl appearance – and loss – to winning its first in New Orleans in 2002, Clint's Corner was published in 129 editions. Additionally, guest contributors including Frank Moore, Ralph Ingrassia and others made their mark on the site, all with original content. This made GoPats.com the go-to destination for reporting and opinion on the team long before the term "dynasty" was even considered. The site and his involvement was cited when Clint won the 1998 Patriots Fan of the Year Joseph Mastrangelo Trophy, which was presented to him by team owner Robert Kraft.
A bonus, if you will, of running one of the original fan Web sites to serve Patriots Nation was the engagement with fans, across New England and around the world. This included Pats fans and fans of other teams, and where the occasional exchange out of bounds, most all connections were positive. Sporting GoPats.com t-shirts and a large banner during tailgating and other events, including New Orleans' Bourbon Street, helped Clint and Mike engage with fans from all corners of the globe.
From a technology point of view, GoPats.com was a groundbreaking media platform. It was a content management system (CMS) and blogging platform long before those terms became mainstream. The site could be updated from home or the parking lot right after the game. Its integrated email list informed hundreds of fans of new content to the site and incorporated leading-edge design and functional features to remain a current platform and offer the ultimate user experience for Patriots Nation.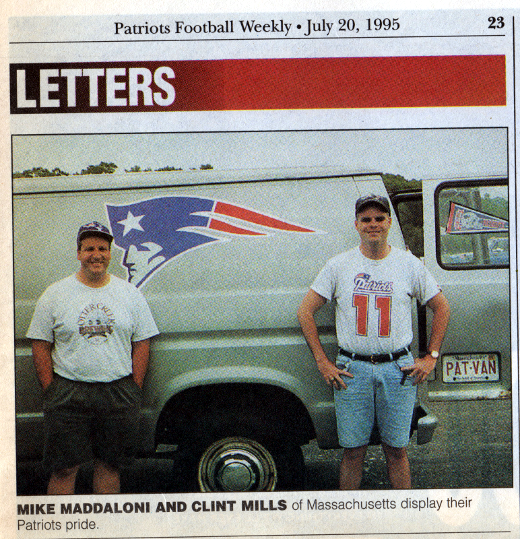 That was then, and this is now. As time went on and as Mike and Clint went from single guys with plenty of disposable time to family men, it impacted the frequency of publishing and overall updates. A short-lived news blog, Out In The Loop, was added in the mid-2000's but it didn't keep up with the fandom landscape, which evolved ahead with more advanced Web sites, mobile apps, social media as well as cross-media business ventures. In recent years the site design was updated to keep it as an archive site, but the demand for knowledge on Bill Parcells "buying the groceries" during the 1996 season waned. Even the above-shown tailgating van is no longer in service, however one of its "PAT VAN" license plates is on display at the official Patriots Hall of Fame at Gillette Stadium.
In its retirement, the domain name GoPats.com will redirect to the very post you are reading now, which lives on Mike's blog, The Hot Iron, which itself has been publishing for over a decade. Could GoPats.com ever come out of retirement or serve another purpose? Any reasonable offers starting at 7-figures will certainly be considered!
---
This is from The Hot Iron, a journal on business and technology by Mike Maddaloni.
---
Did you enjoy this? Subscribe to The Hot Iron by RSS/XML feed or Read by Email.
---
Announcements
•
Blogging
•
Technology
•
Domain Names
•
Thrive
•
Web Design
• (0)
Comments
•
Permalink
Comments

Post a Comment
Note: Comment moderation is active, and your comment will be viewable once it is reviewed.