7 iPhone Apps I Am Thankful For
By Mike Maddaloni on Wednesday, November 23, 2016 at 04:25 PM with 0 comments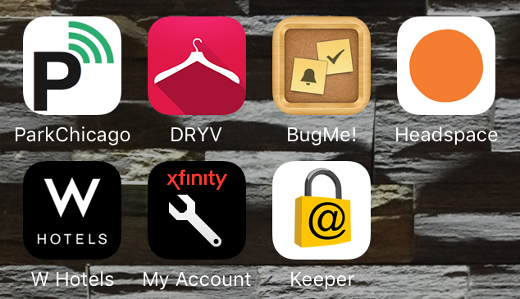 Happy Thanksgiving to all of my fellow Americans and everyone else celebrating the US holiday! As we gather with friends and family, I am certain we will all have our mobile devices close at hand, as the perfect diversion from political debates and to catch the latest sports scores.
Where I will try to keep mine at bay for much of the long weekend, there are some apps on my iPhone that I consistently count on, dare I say I am thankful for. I will now share them with you, in the order they are on my iPhone, across several screens.
ParkChicago – Several years ago the bill to outsource parking meters in Chicago, rammed through the City Council with barely a glance by former mayor Richard M. Daley, has been considered one of the greatest municipal outsourcing blunders of all time. And only a few years into the 99-year deal, its cost to drivers and the city is growing with no end in sight in our lifetimes. Fortunately, the app that is provided by the outsourcing firm to pay for parking helps paying the fees easier, if that makes any sense. It's fast, efficient, and you can extend parking right from the app, whether in a bar or a Broadway musical. The app, available to visitors and residents, takes a little edge off the sharp pain of parking in the Windy City.
DRYV – My on-going quest since living in Chicago to find a dry cleaner with convenient hours and great customer service ended when I installed this app. DRYV is like the GrubHub for laundry and dry cleaning, partnering with cleaners in Chicago and now Detroit and Los Angeles to pickup and deliver dry cleaning as well as wash and fold laundry and alterations. Their customer service is top notch and their prices are also on par with other cleaners. As one of their first customers, I have also been able to watch this service evolve and improve, and win out over other competitors. And if you use code THEHOTIRON you can get $10 off your first order (and I get $10 too as part of their referral program).
BugMe – I stumbled upon this app when I found a login for an old Web service that evolved into this app. It allows you to create digital Post-It notes you can write on and set alarms for them. I use this all the time, whether it's an idea or to remind myself to do something. Being able to scribble with my finger on the note is also handy when the idea comes up when riding on the train and it's easier than typing… providing I can read my writing at a later time.
Headspace – I am trying meditation. I don't do it every day but I wish I did. And when I do, I use the Headspace app. It was recommended to me by many people who meditate, and where it has a monthly fee, so far it has been worth it. You can also have it send you motivational quotes on meditation throughout the day, which sometimes make you think and other times make you smile. You can try the app at no charge, and if you are considering meditation I highly recommend it.
W Hotels – I don't stay in W Hotels as often as I would like to, but this app can give the ambience of the hotels to any space you are in, even a Motel 6 (though you may have to close your eyes too!). The app, which allows you to view their properties and reserve hotel rooms, features music from various genres you would here in a W – from chill to poolside to dance. If I want an escape from the reality I am in, or need some music to write to, this app provides the soundtrack.
Xfinity My Account – Calling Comcast, now Xfinity, customer service has always sucked. Then one employee took to Twitter and revolutionized their support, albeit for a short period of time. The next iteration of their support is this app. When I think my Internet service may be out, I can simple open up the app to confirm it, along with an estimated fix time it that's the case. It also allows me to pay my monthly service bill in fewer steps than it takes with their Web site. Though I don't use this app all the time, it excels for me when I need it.
Keeper – Whether on my Mac, in a Web browser or on my iPhone I use Keeper on an almost daily basis, several times a day. It secures and manages my myriad of logins and passwords for apps and Web services, as well as key information and images I need on occasion. I have used this secure app and service for years and they continuously improve its features and user interface. Keeper comes with an annual fee but you can use its basic services for free. Of all my apps, it's ROI is probably the highest. And by listing it last is no indication that it's my least favorite app – I am not disclosing what screen I have it on!
Deconstructing Apps I Am Thankful For
The more reliant we are on mobile technology, the more we seek out and find apps that are vital to us on an almost daily basis. Of all of these, I did not say email or messaging, as those are core or "plumbing" apps. Rather the apps I have presented here are all third-party, non-Apple apps that improve the productivity of using their hardware. And for that, I am thankful.
---
This is from The Hot Iron, a journal on business and technology by Mike Maddaloni.
---
Did you enjoy this? Subscribe to The Hot Iron by RSS/XML feed or Read by Email.
---
Technology
•
Mobile Technology
•
Thrive
• (0)
Comments
•
Permalink
Comments

Post a Comment
Note: Comment moderation is active, and your comment will be viewable once it is reviewed.