By Mike Maddaloni on Thursday, April 30, 2009 at 10:30 AM with
0 comments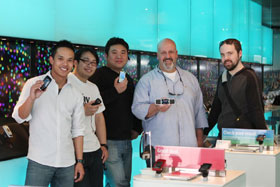 A few weeks back there was a meetup for S60 users and enthusiasts at the Nokia Flagship Store in Chicago. It was coordinated by S60Users.com though as they are in New York nobody was there from them. Despite this, there was a small but might gathering of 5 of us, as shown in the accompanying photo courtesy of Jon from JDMOTO Photography.
Our hosts from the Nokia store let us play with an earlier model of the forthcoming Nokia N97. As it was an earlier model of hardware and software, they wouldn't let us take pictures of it. For myself, it was my first hands-on with the device. I liked its size, feel and layout. Though the keys on the keypad are small, they are easy to feel, especially compared to the new N75. Drawbacks to the keyboard are no separate row for number keys (there's room for one!) and that they are hard to read. Of course the true test of the device is in its real-world use, and I would love to help the cause and try one out – hint!
Speaking of the N75, they had them on display and I spent some time using one. Where I like the form factor and how the keyboard slides, the screen is not much bigger than the E71, and the fact that they keyboard is flat is a drawback, as you can't "feel" out the keys as you type. They are larger keys and there is also no separate row for numbers. As I have called this out twice now, it is obvious I enjoy this feature on my E70 as well as when I evaluated the E71.
And it wouldn't be an event without swag! The friendly staff had some S60 items, including a flat 512MB Flash drive, pen and refrigerator clip. They mentioned they may be hosting other events in the future, so I will be on the lookout for them and will report back here on The Hot Iron. You can see more pictures from the meetup on Jon's blog.

Did you enjoy reading this? You are welcome to subscribe to The Hot Iron by RSS feed or by email.
Mobile Technology
• (0)
Comments
•
Permalink

Page 1 of 1 pages