By Mike Maddaloni on Wednesday, September 22, 2010 at 05:59 AM with
1 comments
Were you affected by last week's outage of Chase Bank's online banking? I was, and so were all of the bank's customers in the US. Though the money in your account was still accessible via ATM or a branch, you could not access your balances, statements or bill pay over the Web. To add to the over 24-hour outage, there was no announcement from the bank about the problem and no reason given for it either.
Through the outage the login form on the Web site was replaced with a graphic saying online banking was unavailable. Once it was restored, small banner ads on the site linked to an apology Web page for both the outage and lack of communications for a few days. This past Monday morning I received an email from the bank – the only one through this ordeal – apologizing for the outage, and the following is a screen shot of that message.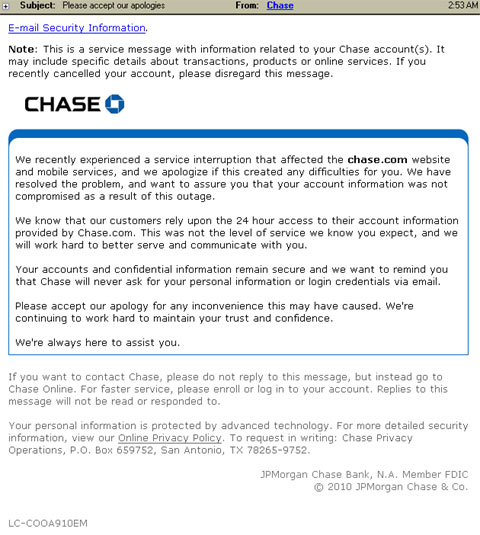 The text of the message is as follows:
We recently experienced a service interruption that affected the chase.com website and mobile services, and we apologize if this created any difficulties for you. We have resolved the problem, and want to assure you that your account information was not compromised as a result of this outage.

We know that our customers rely upon the 24 hour access to their account information provided by Chase.com. This was not the level of service we know you expect, and we will work hard to better serve and communicate with you.

Your accounts and confidential information remain secure and we want to remind you that Chase will never ask for your personal information or login credentials via email.

Please accept our apology for any inconvenience this may have caused. We're continuing to work hard to maintain your trust and confidence.

We're always here to assist you.
After reading this, there was something glaring at me – no person signed the message.
Where Does The Buck Stop?
You don't have to look any further than the BP oil spill in the Gulf of Mexico to see a poor example of corporate communications. Once the global oil giant realized the severity of the issue, it put its CEO Tony Hayward out front as the human face of the mechanical disaster. Over the weeks following BP commercials featured employees who were responsible for various aspects of the cleanup. These people didn't necessarily make the problem any better, but they showed there were people behind the problem.
Even a few months back when Intuit's QuickBooks Online had several days of outages, emails and blog posts were signed by management. Once again, it didn't change the situation, but it showed someone was responsible; it showed where the bucked stopped.
This was not the case with Chase Bank. No person – not the CEO, or any Vice President – signed their name or came forward. This impersonal approach was certainly not for lack of staff or resources, so why did nobody own up to the problem?
As a former customer of Washington Mutual, which was taken over by the FDIC and sold to Chase Bank overnight a few years ago, the change to Chase was a huge contrast to me in the approach to serving its customers. WaMu's free-standing kiosks where you could actually talk to and shake hands with a teller were replaced by tellers behind bullet-proof glass. I could only imagine there would be a person owning up to the issues with their online banking platform if it happened under WaMu's umbrage. This removal of personal connections with customers is what, as a Chase customer, one has to deal with.
Interestingly, it was during this outage that I moved my business banking to PNC Bank. The decision to do so was not related to the outage, rather it was due to a PNC manager asking me for my business. Also interestingly, this manager was formerly with WaMu and then Chase, and left there for PNC. He knew my business, what I needed, and showed me how much better PNC can accommodate it. Yes, a personal connection was the reason for my change.
What did you think of the bank's handling of communication? Does it matter to you if there's personal accountability to such a problem? Please share your thoughts in the comments.

Did you enjoy reading this? You are welcome to subscribe to The Hot Iron by RSS feed or by email.
Business
•
Technology
•
Strategize
•
Web Development
• (1)
Comments
•
Permalink

Page 1 of 1 pages