By Mike Maddaloni on Thursday, March 18, 2010 at 04:00 AM with
4 comments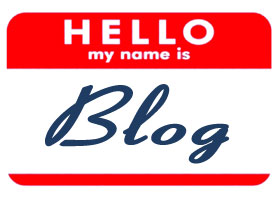 Should a blog have its own domain name? The answer to this is obviously "it depends" as no solution fits for everybody. Let's take the idea of branding a blog step-by-step.
Start With The Brand
It is good practice to brand your blog. By giving it a name other than "company's blog" a brand name helps the blog stand on its own, which many times is the case. Many people come to read a blog based on its own content and not necessarily linked from your company's Web site. RSS feeds and social bookmarking sites may guide many readers to your blog, and people may be more likely to read it if they think there's a level of independence to the blog, and that it isn't just a mouthpiece for the company. If you are adding a blog to your existing Web mix, this is a way to add some energy and buzz from the blog, and to your Web presence overall.
The brand name for a blog can be something completely new to your company, or it could be something you already have. Many blogs are given clever names (like The Hot Iron!) or they can use the company's tag line for the blog name.
This also depends on how you may be marketing or positioning the blog. Many times a blog is the official company blog. In some cases, it is a company blog, but designated it is the opinion of an employee of the company. If you market your key people as individuals, you may want the blogs to have their name as the domain name, or some other phrase or moniker they may use. This will build upon their individual branding.
Then Add A Domain Name
If you go through the effort to brand the blog, ideally you want to acquire a domain name for that brand name, as you should for, at a minimum, to protect the brand. A unique domain name, separate from your company's main domain name, builds upon the momentum of brand name you have given the blog. This is not to say that if you call your blog companyname.com/blog it will not be popular or successful. A domain name also allows for additional blogs down the road.
Many times when a blog is added to a Web site, it may not be hosted along with the site and reside on different servers. If your company has the ability to manage the DNS of its domain name (if you don't know what this means, you probably don't have that ability!) you can add a unique domain name to the blog wherever it is hosted. If your blog is hosted at a blog service like WordPress, you can add a domain name or subdomain (e.g. blogname.companyname.com) and it is recommended to do so - otherwise the blog will have an address of blogname.wordpress.com; if down the road you want to host the blog itself or move it to another service, then its Web address will have to change. When a blog is added to a Web site, it may be running different technology than the Web site. Thus a simple way to manage this is to have a unique domain name for the blog. This actually reduces DNS management for the company's main domain name.
In some cases, you may not be able to add a domain name to a blog, and the reasons can vary. Some companies may have it as policy that you cannot use another domain name other than the main one for the company's Web site. Seriously, this can happen, and was the case with a former employer. Even though we owned domain names for all of our branded products and services, they were not used - yes, the domain names did not resolve to anything! They did not want the brand to be splintered at all, even though in reality the company itself was heavily siloed into separate business units. Other companies may have other policies about managing DNS you will need to be aware of before making such a decision.
Another nuance to consider is the continuously blurring line between Web site and blog. In some cases, the Web site is a blog. A good example is the blog Dunkirk Systems, LLC and Visible Logic, Inc. recently build for the soon-to-be-bestselling book OUIJA - For The Record. This site has a few content pages, but it is primarily a blog and forum. It has one domain name and this is all it needs. There are a few content pages, but the overall goal and design were about conversation about the book, so as it is structured it works well to achieve this goal.
The Brand Beyond The Domain Name
If you do choose a domain name for your blog, ensure to carry it through in your other uses of social media. You can use the domain name in association with Google Feedburner to aggregate and promote your blog feed. Register accounts with associated social media sites - Twitter, etc. - and social bookmarking sites - StumbleUpon, etc. - to carry through and reinforce the blog's brand.
Whether you use a unique domain name or not, the design of the blog may or may not be consistent with the company's Web site. As the flow of a blog can differ from a traditional Web site, the current Web site's design and layout may have to be modified to be used for the blog. If you want the blog to be highly integrated into the Web site, then you may want a consistent design. If you do not, or are not sure, then you may want a unique look for the blog, although the company's brand would be present in the new design. There is a lot more to consider with design, though this post is about the brand name more than the look.
Whichever direction you choose, it in itself will not determine the success of your blog. Unique, interesting and relevant content published for readers published on a regular schedule is still the sweet spot of any blog!

Did you enjoy reading this? You are welcome to subscribe to The Hot Iron by RSS feed or by email.
Blogging
•
Business
•
Domain Names
•
Strategize
• (4)
Comments
•
Permalink

Page 1 of 1 pages