By Mike Maddaloni on Wednesday, July 08, 2009 at 08:23 AM with
2 comments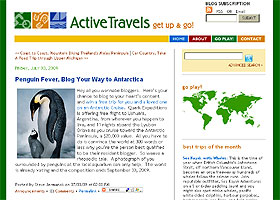 I am proud to announce that Dunkirk Systems, LLC yesterday launched the Active Travels blog and forum!
If you are looking for more than a stroll down Main Street at Disneyland, Active Travels is for you. Steve Jermanok is a travel journalist and has written several book and has contributed to the Boston Globe, Men's Journal and Outside among other publications. Through Active Travels he shares his experiences over the years with unique travel destinations throughout the world on his blog. The forum, aptly named Go Play!, will "fill in the blanks" as he calls it and allows people to discuss destinations and activities. Simply browse the conversations and register to participate.
You can subscribe to Active Travels by RSS feed or by email or visit the site at activetravels.com. Though launched yesterday, it has had a soft launch over the last several weeks and there is already a wealth of travel information and destinations to read about. I think I found my summer getaway already, maybe you are next?

Did you enjoy reading this? You are welcome to subscribe to The Hot Iron by RSS feed or by email.
Announcements
•
Business
•
Technology
• (2)
Comments
•
Permalink

Page 1 of 1 pages