By Mike Maddaloni on Friday, October 15, 2010 at 10:49 AM with
0 comments
Contaminated water tanks, oil leaking into water supplies, high levels of prescription medication found in drinking water, political corruption surrounding paying for water, water management agencies offices in high-rent areas, high taxes on bottled water…
…And all of these things are just in and around Chicago!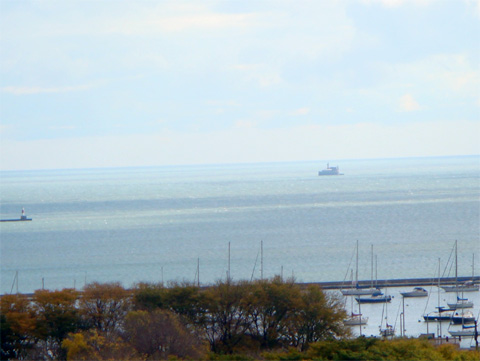 There's no point in reiterating how important water is to all living creatures. Living in Chicago, where the entire eastern border of the city is surrounded by Lake Michigan, I am constantly reminded of it. Yet, for some reason, many tend to forget the real reason for all of what is done to get all the clean water we need. Today is Blog Action Day, a day where bloggers around the world write on a particular topic. This year, it is water.
Whenever conversations around a global concern take place, people tend to forget what is immediately around them, their backyard. As my Mom always said, charity begins at home. Keeping her great advice in mind, I propose not only thinking locally and acting globally, but acting on both.
Act Locally
Many people don't know how the water gets to run out of their faucets. Here's your opportunity to go out and find out what you don't know. In Chicago, the city has a water management department and as well there is a regional water authority, the Metropolitan Water Reclamation District of Greater Chicago. I will be honest in that I don't know too much about either of these departments, other than the latter has prime offices just off the Magnificent Mile and people buy billboards in their bid to be a commissioner of this organization. The also manage a system called "Deep Tunnel" to prevent overflows and flooding.
So why would you want to know this? Understanding the political ecosystem is usually as important as the environmental one, as the former has to do with how much you pay for your water, as well as the safety and purity of the supply. Though they should be straightforward systems, they tend not to be, and it can be summed up in 1 word – politics. I'll leave it at that.
Knowledge is power, especially on the local level, and if you need to act – or react – you can be ahead of the game in knowing who is responsible.
Act Globally
Unless you're planning on traveling the globe to do so, your options to help people's water supplies around the world are limited. Here's a great way to help such a cause while learning from great entrepreneurs – buy a copy of the Age of Conversation 3!
You may recall I talked about this great book, where myself and hundreds of people around the globe contributed to a truly collaborative story. The book is also a not-for-profit endeavor, and all proceeds from it go to Charity: Water an organization where all proceeds go to helping people around the globe, and they have the photos and geo-locations to prove it. Simply buy a copy of Age of Conversation 3 from Amazon or any other outlet and you have helped the cause. I'll even autograph it for an extra donation!
We can all do our part to help – for the benefit of others as well as ourselves. So think before you take that drink of water today, all 8 glasses of it.

Did you enjoy reading this? You are welcome to subscribe to The Hot Iron by RSS feed or by email.
Announcements
•
Blogging
•
Diversions
•
Thrive
• (0)
Comments
•
Permalink

Page 1 of 1 pages