By Mike Maddaloni on Tuesday, April 15, 2008 at 04:00 AM with
2 comments
Have you ever been faced with a business situation you couldn't find an effective way of solving? If you are in business, I bet it has happened more often than not. It's not the problems, though, it is how you solve them. In some cases, it takes a little bit of creativity to do so.
This sign was on the bathroom vanity of a Comfort Inn hotel I recently stayed at: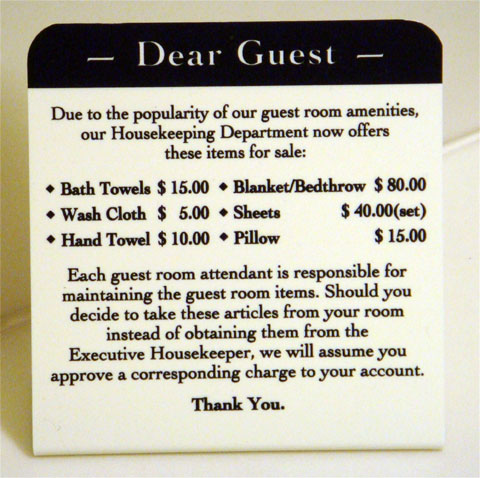 I thought this sign was brilliant, as it solves a business problem with the most positive spin to it.
What is the problem? People steal hotel towels. It probably happens more than anyone would want to admit. Rather than putting a sign in the hotel room stating all towels are accounted for and if you take them you will be charged, it solves the problem with a new opportunity – the towels are for sale. In doing so, it identifies the following:
A service is being offered – towels are offered in the hotel room
There are parameters of the service – the towels are to stay in the hotel room
There is a value to this service – spelled out in the pricing of the towels
These rules came to me as I was staring at the sign while brushing my teeth – rules that could apply to a lot more situations that towel theft. Taking one measly towel may seem harmless, but it is a cost and loss of revenue to the business. The sign serves as a friendly reminder that you are not in business to give things away for free.
I have to be honest, these weren't the best towels I have ever used, and I would never pay that much for them. Most likely the pricing is not for them to get into the towel business though and rather to thwart theft. But this was a Comfort Inn, not a Westin, and the room was priced accordingly. Needless to say, all towels were still int he room when I checked out.
The next time you are faced with a situation you're trying to solve, think of what you need to put on a sign, and it may be all you need to get the point across and solve the problem.
Business
• (2)
Comments
•
Permalink

Page 1 of 1 pages